Finance minister pledges deregulation at AMCHAM meeting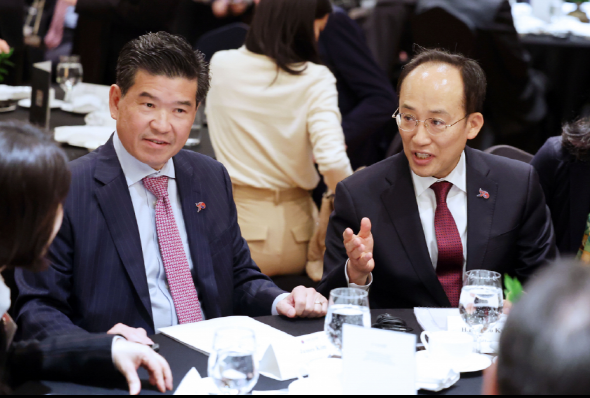 By Song Seung-hyun, The Korea Herald - Finance Minister Choo Kyung-ho on Wednesday pledged to continue efforts to eliminate regulations that do not fit global standards.
"The Korean government will work on removing hurdles that hinder US business operators from establishing Korea as a regional headquarters in the Asia-Pacific region," Choo said at a special luncheon event held at the Grand InterContinental Seoul Parnas Hotel on Wednesday.
"To turn Korea into a No. 1 foreign investment destination, we will strive to create a friendly investment environment with every ministry obtaining a mindset as a salesperson."
With about 90 global corporate representatives in attendance, including members of the American Chamber of Commerce in Korea board of governors, the event offered an in-depth look into the Korean government's strategies to boost the economy and further strengthen the US-Korea economic cooperation through a closer partnership with AmCham Korea.
Choo emphasized that the recent flat tax reform was part of the government's efforts to attract more foreign businesses to Korea.
The Korean government offers a flat income tax rate of 19 percent for foreigners who work in Korea. The period for which this tax benefit is applied was extended from five years to 20 years beginning this year. Foreign workers are subject to normal progressive income tax rates of up to 45 percent afterward.
"I understand that there are demands for further expansion of this period, we will work on it," Choo said.
AmCham Korea Chairman and CEO James Kim welcomed the change and expressed gratitude to Choo for making this reform possible.
"The recent tax reform, including the 20-year flat tax rate for foreign workers, is a great testament to the deputy prime minister's leadership in championing important economic reform in Korea," Kim said. "This year, AmCham will continue to promote greater economic growth in Korea and be a win-win partnership to the Korean government to accomplish one of our key initiatives of establishing Korea as a regional headquarters in (the Asia-Pacific region)."
Choo also said the plan to revise the current 52-hour workweek is aimed to create a flexible labor market that can also be appealing to foreign businesses.
The new plan will allow workers to manage the time they work not only on a weekly basis and give them the option to work up to 69 hours a week.
"During busy periods, workers may choose to work longer hours, and during quieter times, they may choose to work fewer hours," Choo said. He added that this change is not intended to make people work longer.
According to Choo, American investors injected a total of $8.7 billion into South Korea last year, continuing its position as Korea's top investment partner.
Choo also noted that the government has made some changes to create an environment that can appeal to many foreign investors that are willing to put money in the Korean stock market.
He especially highlighted the Korean government's recent effort to extend the operating hours of the foreign exchange market and repeal the registration requirement for foreign investors.
"Deregulation cannot happen overnight but we are open to any kind of suggestions," he added.
Regarding growing concerns over the impact of US policies -- like the Inflation Reduction Act and CHIPS Act -- on Korean firms, Choo said "two countries will seek a harmonious solution."
"Furthermore, the US and Korean governments will continue our mutually beneficial relationship with the Korea-US FTA," he added.
Founded in 1953, AmCham is the largest foreign chamber in Korea, comprising more than 800 member companies and affiliates with substantial participation in the Korean economy.
Source: https://news.koreaherald.com/view.php?ud=20230308000723&md=20230308174654_BL