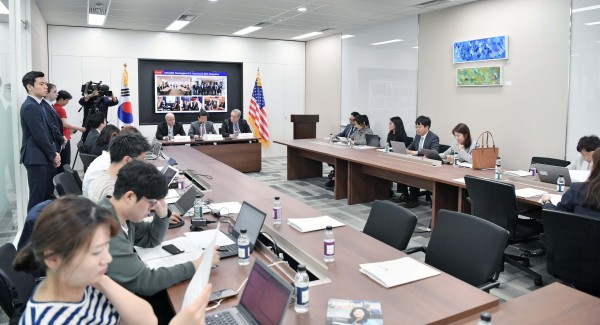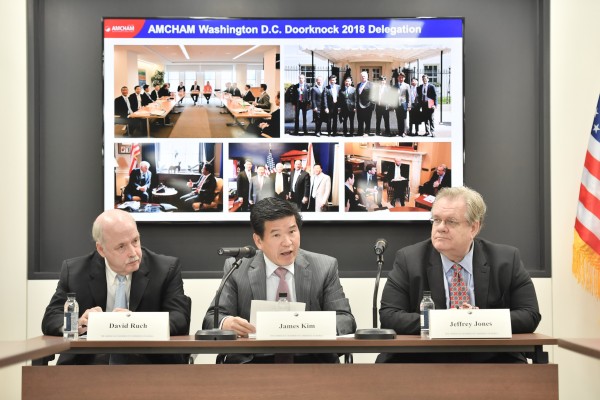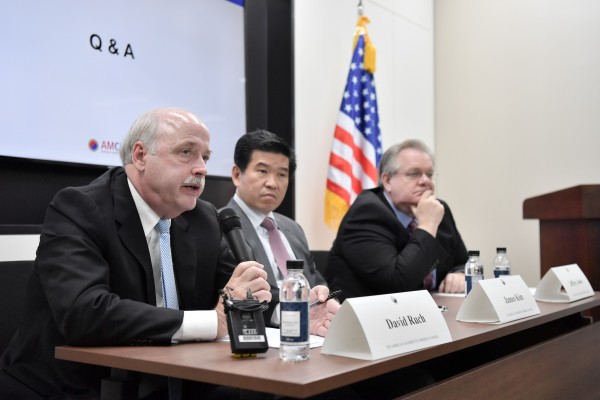 (한글은 아래 참조)
May 15, 2018 ? The American Chamber of Commerce in Korea (AMCHAM) hosted a Press Conference on Doorknock on May 15, 2018, at the AMCHAM office.
AMCHAM leadership, represented by AMCHAM Chairman & CEO James Kim, Chairman of AMCHAM Board of Governors Jeffrey Jones, and Former Chairman of AMCHAM David Ruch elaborated the specifics of what AMCHAM delegation proposed and discussed during their Doorknock visit to Washington D.C. last month.
Chairman & CEO Kim began the conference by highlighting several factors that have led to stronger U.S. ? Korea relations. "The U.S.-Korea commercial relationship has seen much progress and development over the past year. AMCHAM's efforts with the U.S. and Korean business communities and governments have led to a dramatic narrowing of the bilateral trade deficit."
Following Chairman Kim's remarks, Chairman Jones delivered in-depth remarks about the three key messages that were delivered during the meetings at Washington D.C. He detailed 1) the reduction of the U.S. ? Korea bilateral trade deficit, 2) the business community's appreciation for the agreement in principle on the KORUS FTA amendment, and 3) the implementation issues that remain.
"Now that the agreement in principle on the KORUS FTA amendment has been announced, ensuring full and faithful implementation is top priority," he remarked. "AMCHAM shared many of the trade barriers, market access issues and Korea-unique standards that AMCHAM member companies face with not only the Administration but also with the members of the Congress."
Finally, Former Chairman David Ruch elaborated on AMCHAM's past contributions to achieve balanced trade and initiatives to continue these efforts. He delved into four meaningful opportunities for the U.S. and Korea to achieve a better trading balance on a win-win basis:
1.      Defense: By increasing share of U.S. military hardware, Korea would be able to enhance combined force operability while increasing U.S. exports by $8.7 billion USD.
2.      Energy: If Korea would increase U.S. energy imports to a 10% share of the country's total energy spend, U.S. exports would increase by $9 billion USD per year.
3.      Healthcare: If Korea would adjust their reimbursement mechanism to reach even 50% of the OECD average, it would generate a $3 billion USD in drug exports to Korea and provide its people with innovative medicines
4.      Travel & Tourism: Enrolling just 10% of Korea's eligible passport holders, or 700,000 people, could generate an additional 500,000 Korean visitors to the U.S. each year. This win-win solution provides Korean citizens with preferred entry into the U.S. and the U.S. would enjoy increased tourism exports.
Around 20 members of press from both domestic and foreign media outlets were present at the press conference. They were able to participate in in-depth discussion and a Q&A session after the speeches.
###
About AMCHAM Doorknock
Since 1985, a delegation from the American Chamber of Commerce in Korea (AMCHAM Korea) has visited Washington D.C. and on some occasions, New York, and other cities every year to meet with senior officials and policy makers to inform and discuss issues affecting U.S. companies doing business in Korea. These visits, also known as "Doorknock," are designed to draw key officials and policy makers' attention on the economic relationship between the United States and Korea and highlight issues in bilateral trade and investment. Doorknock serves to remind key U.S. leaders the importance of the U.S.-Korea economic partnership and resolve misconceptions that often arise from communication barriers, as well as the physical distance, between the two nations. Issues dealt with in the past include the need for Korea's inclusion in the U.S. Visa Waiver Program and the passage and implementation of the KORUS FTA, among others.
About AMCHAM Korea
AMCHAM Korea was founded in 1953, with a broad mandate to encourage the development of investment and trade between the Republic of Korea and the United States. AMCHAM is the largest foreign chamber in Korea with around 700 member companies with diverse interests and substantial participation in the Korean economy.
* Note: "AMCHAM" should be used instead of "AmCham" 
###
암참, 한미 양국간 무역 역조 해소를 위해 힘써?
'암참 도어녹 브리핑 기자회견' 개최
?
2018 년 5월 15일 ? 주한미국상공회의소 (이하 '암참')는 5월 15일 (수) 오전, 서울 여의도 주한미국상공회의소 사무실에서 올해 도어녹 (Doorknock) 워싱턴 D.C. 방문의 브리핑 기자회견을 개최했다.
이번 기자회견을 통해 제임스 김 암참 회장 겸 대표이사, 제프리 존스 암참 이사장, 데이비드 럭 전 암참 회장은 지난 달 도어녹 방문의 교훈과 성과, 제안한 내용에 대해 발표했다.
김 회장은 "한미 간 통상 관계는 지난 한 해 동안 많은 발전과 진척을 보였다."고 평가하고, "암참이 한미 양국 재계와 정부와의 긴밀한 협조를 통해 양국 간 무역 적자를 극적으로 줄이는 데 기여했다"고 전했다.
김 회장의 연설 이후 제프리 존스 이사장이 올해 도어녹 방문을 통해 미 행정부, 의회 및 싱크 탱크의 주요 인사에게 전달한 세 가지 주요 메시지에 대해 설명했다.
1.    한미 무역관계는 더욱 균형 잡힌 모델로 발전하고 있음
2.    한미 FTA 개정협상의 원칙적 합의 도출을 환영함
3.    새로운 한미 FTA의 완전한 이행이 중요함
마지막으로 데이비드 럭 전 암참 회장이 한미 양국간 윈-윈 관계를 기반으로 무역 관계의 균형을 찾고 무역 역조 해소를 돕는 다음의 4가지 방안을 제시했다.
1.    방위 산업
한국의 무기 조달 시장의 미국산 점유율이 증가하게 되면 한국의 연합군 지휘력을 향상시킬 수 있으며, 동시에 미국의 한국 수출 또한 87억 달러 증가시킬 수 있을 것
2.    에너지 산업
한국이 미국으로부터의 LNG 수입량을 국가 전체 에너지 지출의 10% 수준으로 늘리면 미국의 대한 수출액은 연 90억 달러 증가할 것
3.    보건의료산업
신약 약가에 대한 한국의 건강보험 급여 체계를 개선해, 국내 환자들의 혁신적 신약에 대한 접근성을 비약적으로 증대 시킬 수 있을 뿐 아니라, 무역 역조 개선에도 일조할 것
4.    관광?여행업
유효 여권 소지자 중 10% (70만 명)만 '미국 자동 출입국 심사 프로그램 (글로벌 엔트리)에 등록을 한다면, 미국을 방문하는 한국인의 수는 50만 명 더 증가할 것으로 예상됨. 이 제도를 통해 한국인 관광객들은 미국 입국 시 공항 입국 심사장에서 장시간 대기하지 않고 용이하고 자유롭게 미국에 입국 할 수 있게 될 것
이날 기자회견에는 내, 외신을 비롯한 20여여 명의 취재진이 참석하여 연설에 이어진 질의응답에서 더 많은 정보를 전해 들었다.
###
암참 도어녹(Doorknock)
암참 도어녹 사절단은 암참 회장단과 회원사 대표단으로 구성되어 매년 워싱턴 D.C.를 방문해 한국에서 활동하는 미국 기업인으로서의 경험을 공유하고, 한국에 대한 올바른 이해를 증진하며 미국의 경제 동향을 파악하는 암참의 주요 연례회의 중 하나이다. 매년 상반기 암참 사절단이 방미해 백악관을 비롯한 국무부, 상무부, 재무부 등 경제 통상 부처 각료는 물론 미 의회 의원 및 보좌관, 다수의 기관과 싱크탱크 관계자를 만나 한미 간의 각종 통상 현안을 놓고 나흘의 일정 동안 50여개의 회의를 진행한다.
암참

주한미국상공회의소 (암참)는 1953년 한미 양국의 투자와 무역 증진을 목적으로 설립된 국내 최대 외국 경제단체로, 한국 경제각계에서 활발하게 활동하고 있는 700여 개의 기업회원으로 구성되어 있다. 
?