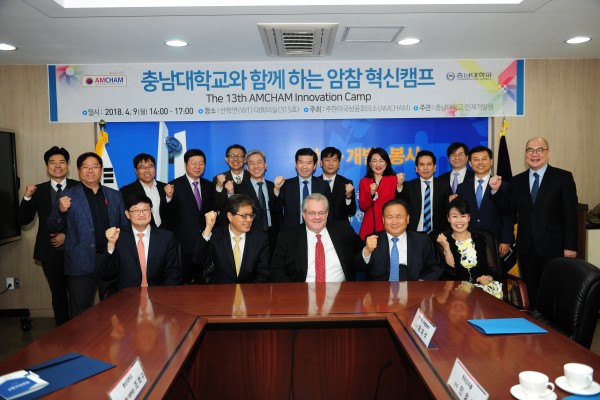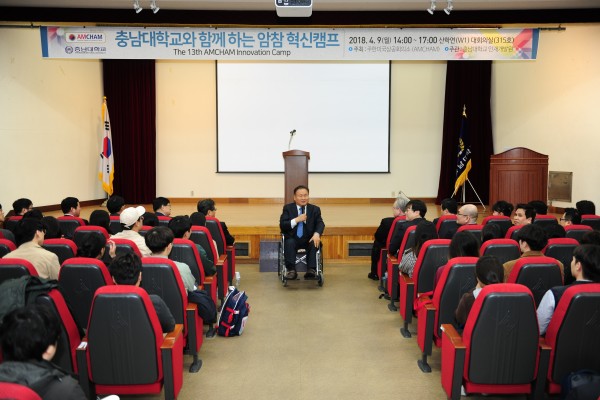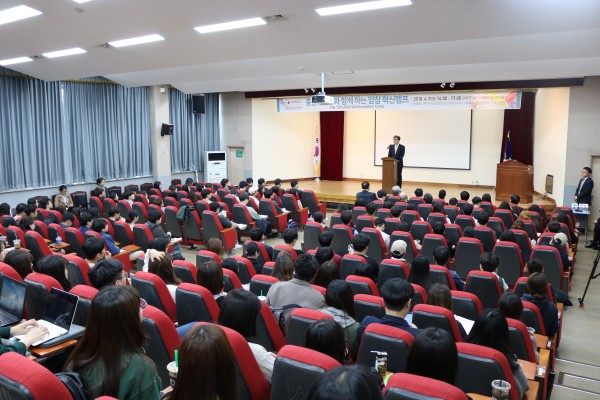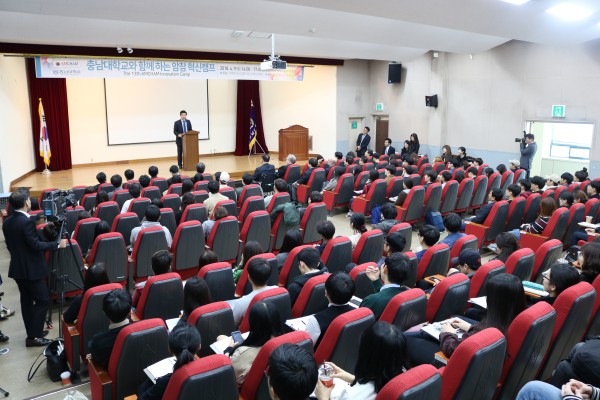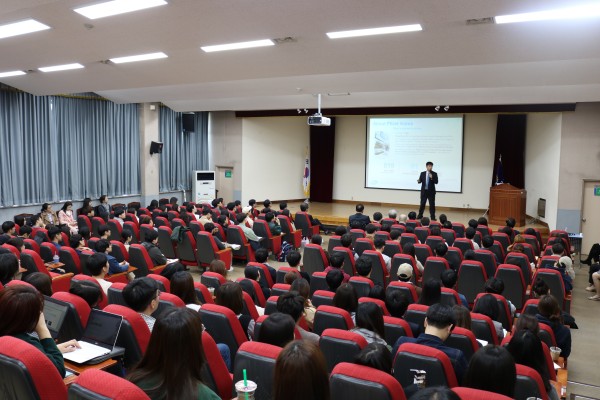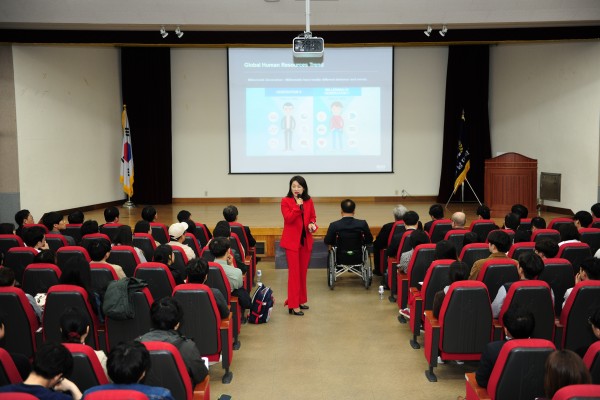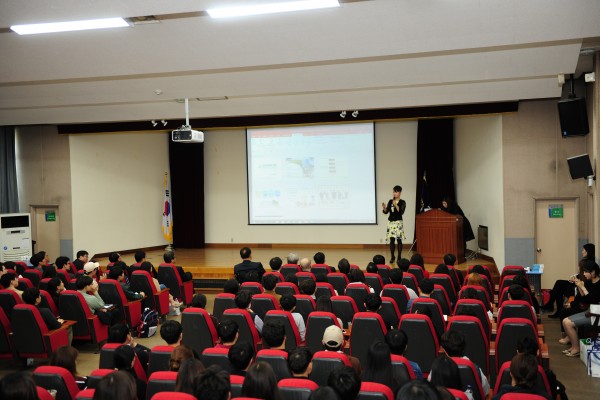 April 9, 2018 ? The American Chamber of Commerce in Korea (AMCHAM) held the 13th AMCHAM Innovation Camp at Chungnam National University on April 9, 2018. The AMCHAM delegates, comprised of seven members of AMCHAM leadership and representatives from leading global companies, met with around 200 university students to share insight about how to improve their competitiveness in the global job market as well as their personal experiences working at global firms. National Assemblyman (Chairman of Legislation and Judiciary Committee) the Honorable Sang-Min Lee, and President of the Chungnam National University Deog-Seong Oh delivered the congratulatory remarks.
In the first session of the event, Country Manager & Internal Medicine Lead Dongwook (Dave) Oh of Pfizer Korea, Managing Director YouMe Jeon of Kelly Services, Ltd., and Vice President Younghee Chung of Herbalife Korea Co., Ltd. delivered presentations about the skills necessary for joining leading international companies.
In the second session, the mentors including Foundation Chairman Jeffrey Jones of the Partners for the Future Foundation, Country Manager Yongtak "Paul" Lee of ETS Global Korea, Executive SungUng Lee of IBM Korea, and Director of Corporate/Government Affairs Hyokee Min of Oracle Korea, Ltd. met with smaller groups of students to engage in more detailed discussions and share advice about entering the international work force.
###


AMCHAM Innovation Camp
To help strengthen the global competitiveness of Korean youth, the American Chamber of Commerce Korea (AMCHAM) launched the AMCHAM Council on Innovation for the Future in 2012 to meet with local governments and offer special lectures and mentoring sessions by CEOs to local university students. To date, the Council has hosted 12 AMCHAM Innovation Camps at Chungbuk National University, Pusan National University, Keimyung University, University of Seoul, Kangwon National University, Chungnam National University, Chonbuk National University, Dankook University, University of Ulsan, Changwon National University, Ajou University and Chung-Ang University. AMCHAM members and CEOs of global companies aim to promote Korean students' changes of employment in international firms through lectures and intimate mentoring sessions.
About AMCHAM Korea

AMCHAM Korea was founded in 1953, with a broad mandate to encourage the development of investment and trade between the Republic of Korea and the United States. AMCHAM is the largest foreign chamber in Korea with around 700 member companies with diverse interests and substantial participation in the Korean economy.
* Note: "AMCHAM" should be used instead of "AmCham"
###
암참, 충남대학교 학생들 대상 CEO 특별강연 펼쳐 
'제 13회 암참 혁신캠프'

2018 년 4월 9일 ? 주한미국상공회의소 (이하 '암참')은 오늘 오후, 충남대학교에서 '제 13회 암참 혁신캠프'를 개최했다. 암참 이사진, 글로벌 기업 CEO 및 임원들로 구성된 7명의 암참 멘토진들은 충남대학교를 방문하여 약 200명의 학생들을 대상으로 글로벌 인재의 역량에 대해 강연하고, 글로벌 기업에서의 경험과 조언을 전달했다. 이번 행사에는 이상민 국회의원과 오덕성 충남대학교 총장이 축사를 전달했다.
이날 행사 1부에서는 오동욱 한국화이자제약 대표이사 사장 & 내과질환사업부 대표, 전유미 켈리서비스유한회사 대표, 정영희 한국허벌라이프 대표이사가 CEO 특별강연을 통해 글로벌 기업 취업에 필요한 역량에 대해 강연했다.
이어진 2부 행사에서는 제프리 존스 미래의동반자재단 이사장, 이용탁 이티에스글로벌비브이, 한국지점 대표, 이성웅 한국IBM 상무, 민효기 한국오라클 상무를 포함한 암참 멘토진들이 각각 소규모 그룹의 학생들과 모여 취업에 대한 실질적인 조언을 하며 뜻 깊은 멘토링 시간을 가졌다.
###
암참 혁신캠프
주한미국상공회의소 (암참)은 국내 청년들의 글로벌 경쟁력 강화를 돕기 위해 2012년 암참 미래혁신위원회를 출범, 지방자치단체 방문과 해당 지역 대학생들을 위한 CEO 강의와 멘토링을 진행하고 있다. 지난 12회의 암참 혁신캠프는 충북대학교, 부산대학교, 계명대학교, 서울시립대학교, 강원대학교, 충남대학교, 전북대학교, 단국대학교, 울산대학교, 창원대학교, 아주대학교 그리고 중앙대학교에서 각각 열렸다. 암참 회원사와 글로벌 기업 CEO 및 임원들은 강연과 소그룹 멘토링을 통해 국내 학생들의 글로벌 기업에 취업기회 확대를 위해 힘쓰고 있다.
###
주한미국상공회의소 (암참)
주한미국상공회의소(암참)는 1953년 한미 양국의 투자와 무역 증진을 목적으로 설립된 국내 최대 외국 경제단체로, 한국 경제 각계에서 활발하게 활동하고 있는 700여 개의 기업회원으로 구성되어 있다.