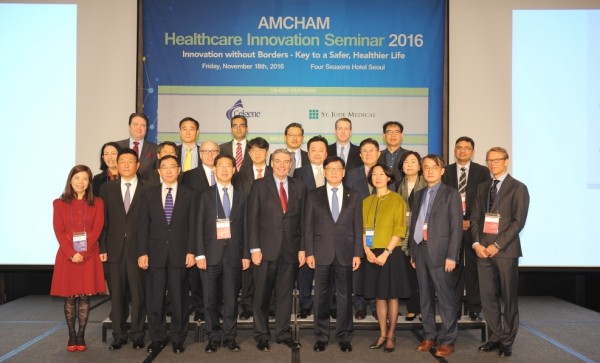 (한글은 아래 참조)
November 18, 2016 (Seoul) - The American Chamber of Commerce in Korea (AMCHAM Korea) hosted the seventh annual "AMCHAM Healthcare Innovation Seminar" on Friday, November 18 at the Four Seasons Hotel Seoul.
Over 200 representatives from a variety of domestic and foreign healthcare-related companies, health organizations, government agencies including Ministry of Health and Welfare and Health Insurance Review & Assessment Service, gathered to share their insights through presentations and panel discussions under the theme of "Innovation without Borders ? Key to a Safer, Healthier Life." The seminar aims to identify key policies and incentives for Korea to attract investment in innovation and enhance its global competitiveness.
The event started with opening remarks from John Schuldt, President of AMCHAM, followed by congratulatory remarks from government leaders including His Excellency Chung Chinyoub, The Minister of Health of Welfare, His Excellency Yang Seoung-jo, Member of the National Assembly and Chairman of the Health and Welfare Committee, and Marc Knapper, Deputy Chief of Mission of the U.S. Embassy to the Republic of Korea.
In his congratulatory remarks, Minister Chung Chinyoub addressed the 4th Industrial Revolution which lead healthcare paradigm shift from "treatment" to "prevention & management," and stressed the increasing importance of innovation in IT and biotechnology industries. He mentioned that "Korean government will continue its efforts to implement policies that place improved public health as a core value. 
Chairman Yang Seoung-jo, expressed in his congratulatory remarks that "Healthcare is one of the fastest growing and innovative industries. Multinational pharmaceutical companies have greatly contributed to the growth of healthcare industry as well as the increased FDI and job creation in Korea. I appreciate AMCHAM's efforts in creating an opportunity to analyze the trend in the healthcare industry and discuss potential opportunities for public-private partnership."
Through plenary session presentation, President Bang Yung-Jue of Biomedical Research Institute at Seoul National University Hospital noted that "Open innovation is necessary for maximizing R&D efficiency in pharmaceutical and medical technology." He stressed emphasis on the collaboration among institutes, academia, hospitals and investors for better efficiency.
In session 1, presenters explained about the costs and risks of pharmaceutical R&D and ways to promote R&D through bio-cluster. George Chen, Sr. R&D Leader of AstraZeneca, noted that "New drug discovery and development is a long, risky and costly journey." Uloff Muenster, General Manager of Merck Korea, cited M Lab™ Collaboration Center as an example of partnership model among biopharmaceutical manufacturers, engineers and scientists to solve challenges and accelerate development together. Maeng Hoyoung, Director at Division of Trade Affairs of MOHW, then introduced the Korean governments' policies and plans on new medical development R&D and bio-cluster.
In session 2, presenters discussed about the new paradigm of healthcare for cost-effective patient access. Professor Jeong Boyoung of Yonsei Severance University Hospital introduced Cardiac Remote Monitoring System as an example of innovative technology that can help to reduce the unnecessary medical costs of patients.
During lunch, Professor Lee Hak Jong of Seoul National University Bundang Hospital delivered the keynote speech of the day and emphasized the significance of R&D in healthcare industry.
In session 3, panelists discussed under the theme of "Back to Basics: Ensuring Patient Safety for Better Clinical Outcome." Jayant Giri, Physician and Associate Director of Becton Dickinson, presented about how innovative technologies can help to improve infection prevention, ultimately resulting in enhanced patient safety. Panelists including Kim MiHyang, Director at Listing Management Division of Health Insurance Review and Assessment Service, discussed ways to effectively utilize new technologies for the patients with appropriate regulations and reimbursement policies.
For questions, please visit the AMCHAM Korea website at www.amchamkorea.org or call AMCHAM office at 02-6201-2238.
Below are some of the participants at the event:
Healthcare-related companies
● 3M Korea Ltd.
● Abbott Korea Limited
● ?AstraZeneca
● ?Becton Dickinson
● ?Boston Scientific Korea
● ?Bristol-Myers Squibb Korea
● ?Celgene Corporation
● ?Chong Kun Dang Pharmaceutical
● ?Cook Medical Korea., Ltd.
● ?Intuitive Surgical Korea
● ??Janssen Korea Ltd.
?● ?Johnson & Johnson Medical Korea Ltd.
?● ?Lilly Korea Ltd.
?● ?Lutronic Corporation
?● ?Medtronic Korea Ltd.
?● ?Merck Korea
?● ?Pfizer Pharmaceuticals Korea Limited
?● ?St. Jude Medical
Organizations
● Biotechnology Industry Organization (BIO)
● Hanyang University 
● Health Right Network 
?● ?Korea Drug Research Association
?● ?Korea Medical Devices Industry Association (KMDIA)
?● Korea Pharmaceutical Manufacturers Association (KPMA)?
?●? Korea Research-based Pharma Industry Association (KRPIA)
?● ?Seoul National University Bundang Hospital
?● Seoul National University Hospital?
?● St. Paul's Hospital
?● Yonsei Severance University Hospital
Government Agencies ??
● Consumers Korea 
● Health Insurance Review & Assessment Service

● Korea Health Industry Development Institute
● ? Korean National Assembly
● ? Ministry of Food and Drug Safety
● ? Ministry of Health and Welfare
● ? Ministry of Trade, Industry and Energy
● ? National Health Insurance Service?
###?
암참, "2016 보건의료혁신 세미나" 개최
주한미국상공회의소(이하 "암참")는 11월 18일 (금) 포시즌스호텔 서울에서 "2016 주한미국상공회의소 보건의료혁신세미나"를 개최했다.
올해로 7회를 맞는 본 행사에는 "국경과 산업을 넘어서는 보건의료혁신의 패러다임"이라는 주제 하에 약 200여명의 국내외 유수의 의료기기 및 제약기업과 보건복지부, 건강보험심사평가원 등 관련 부처 관계자들이 한자리에 모여 헬스케어 산업의 혁신과 새로운 패러다임에 관해 활발하게 논의했다. 암참 보건의료혁신 세미나는 보건의료 분야의 혁신을 위한 투자의 필요성을 제고하고 국내 보건의료 업계의 국제 경쟁력을 고취하기 위한 주요 정책 및 인센티브를 식별하는데 그 의의를 두었다.
이 날 행사는 존 슐트 암참 대표의 개회사와 정진엽 보건복지부 장관, 양승조 국회 보건복지위원장의 축사 및 마크 내퍼 주한미국부대사의 환영사로 시작했으며, 국내외 헬스케어 산업의 선두기업 및 학계 연사들의 발표와 토론으로 이어졌다.
정진엽 장관은 축사를 통해 "제 4차 산업혁명의 시대를 맞아 보건의료의 패러다임이 '치료'에서 '예방, 관리'로 바뀌고, IT와 생명공학기술의 융합 등 헬스케어 분야의 혁신이 중요한 키워드가 되었다"라고 전하며, 한국 정부는 "국민의 건강한 삶이라는 핵심가치를 중심으로 정책을 추진해 나갈 것"이라 강조했다.
양승조 보건복지위원장은 이어진 축사를 통해 보건의료 분야는 가장 급속도로 성장하고 있는 혁신적인 산업이라 설명하고, "글로벌 제약사는 국내 기업과 다양한 분야에서 협력하여 국내 헬스케어 산업의 발전과 투자 및 일자리 창출에 기여했다"고 전했다. 앞으로 대한민국 정부는 "국내 바이오헬스 산업이 세계 7대 강국으로 도약할 수 있도록 노력할 것"이라 강조하고, 헬스케어 산업의 동향과 영향을 분석하고, 민관 협력방안의 논의의 장을 만들어 준 암참에 감사의 마음을 표하며 지속적인 협력을 이어나갈 것을 강조했다.
방영주 서울대학교병원 의생명연구원장은 개회 기조연설을 통해 신약 개발 R&D 효율성 제고를 위해 필수적인 개방적 혁신(Open innovation)에 대해 설명했다. 이어서 새로운 R&D 생태계에서 필수적인 요소로 민간 부문의 자금, 오픈마인드의 기업 지도자, 환자 지향적 인프라, 그리고 친밀한 네트워크를 꼽으며, 각 부문간 긴밀한 협력의 중요성을 언급했다.
첫 번째 세션의 발표자들은 신약개발 R&D의 비용과 리스크에 대해 설명하고, 성공적인 R&D 활성화의 사례로 바이오클러스터를 꼽았다. 조지 첸 아스트라제네카 아태본부 수석 R&D 리더는 "새로운 의약품 개발은 비용, 시간이 많이 소요되는 고된 작업"이라 전했다. 이에 덧붙혀 울로프 뮤엔스터 한국 머크 바이오파마 제너럴 매니저는 한국 머크의 'M랩 센터'를 보건의료발전을 위한 혁신활동의 예로 들며, 국내 기업 및 연구자들의 협력 모델을 공유했다. 맹호영 보건복지부 통상협력담당관은 신약개발 R&D 및 바이오클러스터 활성화 관련 우리 정부의 정책을 소개했다.
두 번째 세션에서는 "의료기기의 새로운 패러다임-의료기술 혁신과 환자 접근성 강화"를 주제로 논의가 이어졌다. 정보영 연세대학교 세브란스병원 교수는 '심혈관 질환자 대상 원거리 추적관찰시스템'에 대해 설명하고 이러한 혁신적인 기술의 도입이 환자들의 불필요한 의료비용을 절감하는 데 기여할 것이라고 전했다. 이학종 분당서울대학교병원 R&D 센터장은 오찬 기조연설을 통해 헬스케어 산업 R&D의 중요성에 대해 강조했다.
마지막 세션의 발표 및 토론은 "환자 치료의 기본 ? 환자 안전 확보를 통한 치료결과 개선 방안"을 주제로 진행됐다. 자얀트 기리 벡톤디킨슨 어소시에이트 디렉터는 혁신적 기술이 환자들의 감염 관리 및 안전 관리에 기여하고, 궁극적으로는 환자의 안전을 확보하는 데에 의의를 두고있다고 설명했다. 김미향 건강보험심사평가원 등재관리부장 외 패널들은 환자들에게 적절한 규제와 정책을 제공하는 새로운 기술의 효율적 활용 방안에 대해 토론했다.
이 날 행사에는 아래와 같은 국내외 의료기기·제약 기업, 관련 부처 및 보건당국 관계자 등 300여명이 참여했다.

의료 관련 기업
● 루트로닉
● 메드트로닉 코리아
● 벡톤디킨슨
● 보스턴 싸이언티픽 코리아
● ?세인트쥬드 메디칼
● ?셀진
● ?아스트라제네카 아태본부
● ?인튜이티브서지컬 코리아
● ?종근당
● ?쿡메디칼 코리아
● ?한국BMS제약
● ??한국 릴리
?● ?한국 머크
?● 한국쓰리엠
?● ?한국 애보트
?● ?한국 얀센
?● 한국 존슨앤존슨
?● 한국화이자제약
단체
● 가톨릭대학교 성바오로병원
● 건강세상네트워크
● 미국바이오협회 
?● 분당서울대학교병원
?● ?서울대학교병원
?● 연세대학교 세브란스병원
?●? 한국다국적의약산업협회
?● 한국보건의료연구원
?● 한국신약개발연구조합
?● 한국의료기기산업협회
?● 한국제약협회
?● 한양대학교?
정부관계 기관
● 건강보험심사평가원
● 국민건강보험공단

● 대한민국 국회
● ?보건복지부
● ?산업통상자원부
● ?소비자시민모임
● ?식품의약품안전처
● 한국보건산업진흥원?