AMCHAM to host First Blockchain Seminar 2022
Seeking improvement to balance between supporting innovation and regulating the market
 ​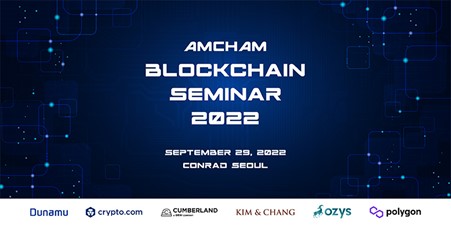 September 20, 2022 - The American Chamber of Commerce in Korea (AMCHAM; Chairman and CEO James Kim) will host the AMCHAM Blockchain Seminar 2022 on Thursday, September 29, at the Grand Ballroom (3F) of Conrad Seoul Hotel. Held for the first time this year, the seminar is designed to introduce the latest technologies and trends in the blockchain sector and explore of the value of blockchain across all industries.

Sponsored by Dunamu, crypto.com, Cumberland, Kim & Chang, Ozys and Polygan, this event will explore a variety of topics in the revolutionary new space of blockchain, cryptocurrency and NFTs, with major experts in the field, including representatives from the U.S. and Korean governments and business communities. The event will run from 9am to 6pm and will divided into three sessions exploring issues related to regulation and promotion, technological development and business trends, and digital assets as investment instruments.
The event will feature keynote speeches on "How NFTs are Changing the Internet," "Digital Asset and NFT Strategies for Corporations" as well as sessions with presentations from industry leaders on the topics, "Proposal for Regulating the Korean Crypto Market" by Dunamu, "Toward Balanced Regulation in Korea for the Crypto Industry" by Kim&Chang "Open Society & Ownership: Implications of Web 3.0 and Blockchain" by Ozys, "Web 3.0 Adoption for Enterprises: Lessons, Trends, and Opportunities" by Polygon, "NFTs as an Effective Engagement Platform for Korean Businesses, Artists, and Creators to Reach Global Customers / Fans" by Crypto.com and "Financial vs. Digital Asset Capital Market" by Cumberland.
The Blockchain Seminar, which will help us to dive into important topics of substantial impact that society needs to contemplate and adopt, is now open to the public. To register to this event, please visit the AMCHAM Korea website at www.amchamkorea.org or call AMCHAM office at 02-6201-2255. 
###
제1회 '블록체인 세미나 2022' 개최 예정
블록체인 산업 육성과 시장 규제간의 균형을 위한 개선책 등 모색
2022년 09월 20일 - 주한미국상공회의소(암참; 회장 겸 대표이사 제임스 김)가 오는 9월 29일 목요일 콘래드 호텔 그랜드 볼룸 (3층)에서 '2022 블록체인 세미나 (Blockchain Seminar 2022)'를 개최한다. 올해 처음으로 개최되는 암참의 이번 블록체인 세미나는 블록체인 분야 최신 기술 및 트렌드를 소개하고 분야별 전문가들의 식견과 통찰력 공유를 통해 전 산업에 걸친 블록체인의 가치를 함께 탐색하기 위해 마련되었다.
두나무, 크립토닷컴, 컴벌랜드, 김앤장법률사무소, 오지스, 폴리곤의 후원으로 진행되는 이번 세미나에서는 한·미 정부, 국내외 재계 대표를 비롯한 이 분야 주요 전문가들과 함께 블록체인, 암호화폐, NFT 등의 이슈를 포괄적으로 다룰 예정이다. 오전 9시부터 오후 6시까지 이어질 이번 세미나는 "육성과 규제 사이의 균형", "기술 개발과 최신 트렌드", "투자 수단으로의 디지털 자산" 등 크게 세개의 세션으로 나뉘어 세션 별 이슈를 자세히 다룰 예정이다.
세션에서는 "NFT가 인터넷을 어떻게 변화시키고 있는가", "기업을 위한 디지털 자산 및 NFT 전략"을 주제로 하는 기조연설을 포함하여, 두나무의 "한국 암호화폐 시장 규제 제안: 분류와 자율규제의 필요성", 김앤장 법률사무소의 "국내 암호화폐 산업의 균형적 규제를 위한 방안", 오지스의 "열린 사회와 소유권: 웹3.0과 블록체인의 함의", 폴리곤의 "기업을 위한 Web3 도입-교훈, 시장 동향, 그리고 기회", 크립토닷컴의 "글로벌 고객/팬을 대상으로 하는 한국 기업, 아티스트 및 크리에이터를 위한 효과적인 참여 플랫폼으로서의 NFTs" 그리고 컴벌랜드의 "금융 vs. 디지털 자산 자본 시장" 등을 주제로 각 분야 전문가들의 발표와 패널토의가 이어질 예정이다. 
현 시대의 최대 화두 중 하나로 자리잡은 블록체인. 우리 사회와 개개인의 일상에 큰 영향력을 가진 블록체인에 대한 사회적 고찰과 어떻게 활용하고 적용할 것인지에 대한 폭넓은 논의가 이루어져야 할 지금, 암참 블록체인 세미나에서 답을 찾을 수 있기를 바란다. '2022 블록체인 세미나 (Blockchain Seminar 2022)'는 암참 비회원에게도 공개되며, 사전등록을 통해 참석이 가능하다. 사전등록은 현재 암참 홈페이지 (www.amchamkorea.org)를 통해 진행 중이다. 세미나 참석 관련 기타 문의: Tel. 02-6201-2255