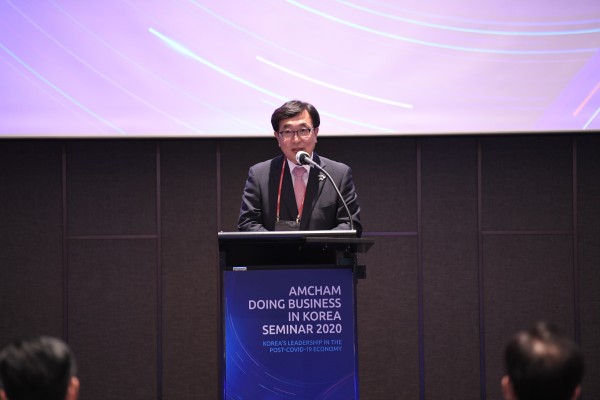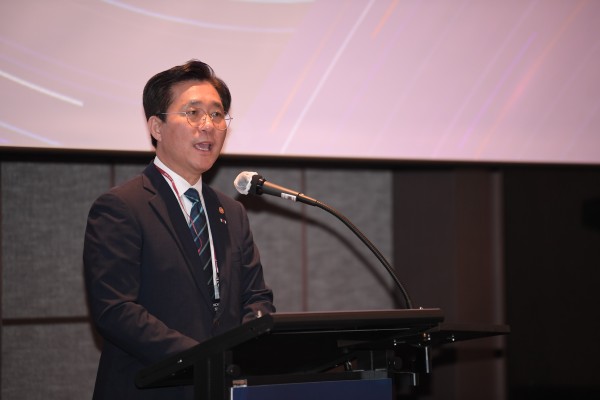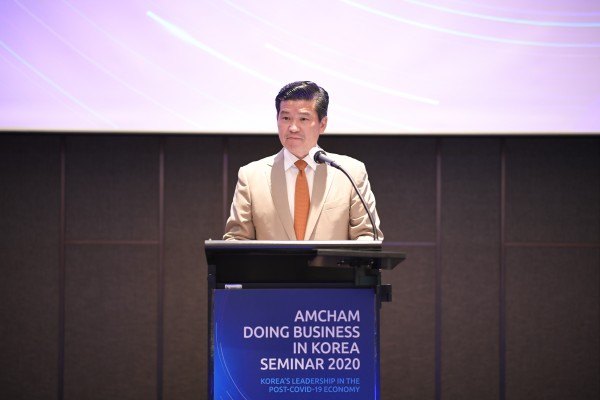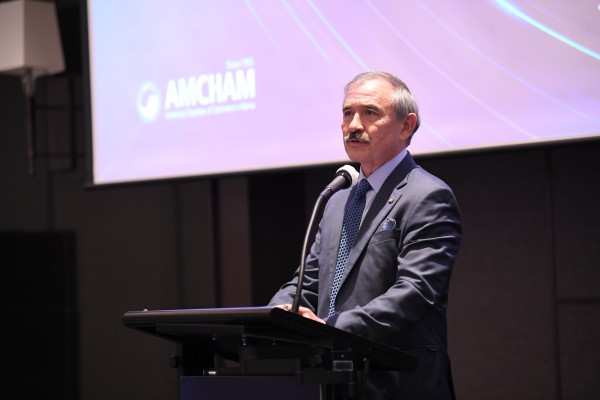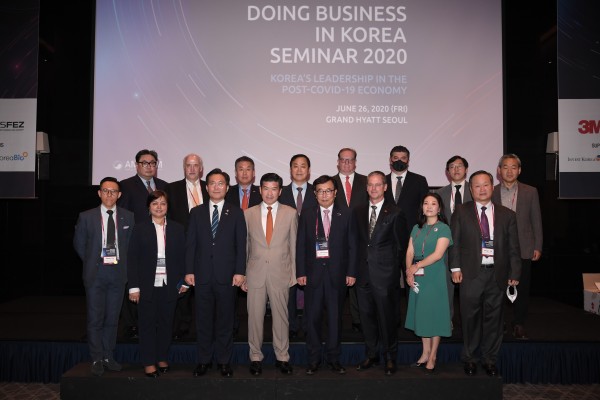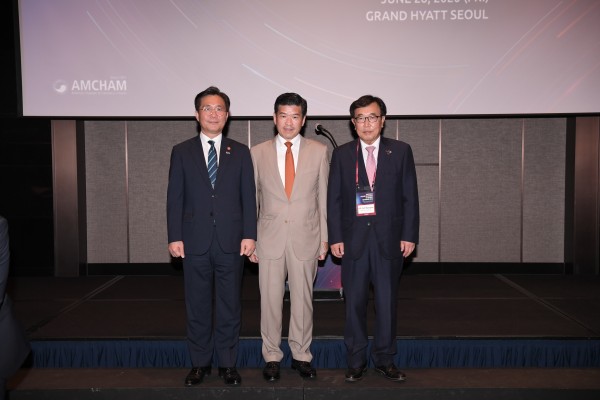 (한글은 아래 참조) ?
June 26, 2020 (Seoul) - The American Chamber of Commerce in Korea (AMCHAM Korea) hosted the 2nd AMCHAM Doing Business in Korea Seminar 2020 on June 26, 2020, at the Grand Hyatt Seoul. Around 100 distinguished guests, including officials from the U.S. and Korean governments and CEOs of foreign companies, attended the event.
The first event of its kind since the COVID-19 pandemic, the seminar discussed measures to revive the Korean economy from the viewpoint of foreign-invested companies operating in Korea.
In his congratulatory remarks, AMCHAM Chairman & CEO James Kim underlined the need for collaboration on the road to economic recovery. "Korea has already set a positive example on handling COVID-19. With continued partnership between the Korean government and the global business community, Korea can continue to lead the world in economic recovery," he remarked.
Following Chairman & CEO Kim were congratulatory remarks by His Excellency Suh Byung-soo, member of the National Assembly, and His Excellency Sung Yun-mo, Minister of Trade, Industry and Energy. "The Korean government will take the lead in helping the global economy flourish in the post-corona era," remarked Minister Sung. "We will lead strong cooperation with the international community." The Honorable Harry Harris, U.S. Ambassador to South Korea voiced his support for the global business community in Korea.
The first panel discussion delved into the results of a survey on AMCHAM members' perspectives of the impact of the pandemic on revenue, employment and investment. Representatives of iconic U.S. brands who were able to mitigate the negative impacts of the pandemic, including 3M Korea, The Est?e Lauder Companies Korea, Costco Wholesale Korea and Lime Korea, shared their best practices and lessons learned.
The second panel discussion featured a dialogue about necessary regulatory reform in the era of the Korean New Deal with representatives from IBM Korea, Airbnb Korea, GE Renewable Energy Korea, KOTRA and Macoll Consulting Group. This session covered the role of global multinational companies in the Korean New Deal as well as the easing of regulations to help businesses recover from COVID-19.
 
###
AMCHAM Korea was founded in 1953 with a broad mandate to encourage the development of investment and trade between the Republic of Korea and the United States. AMCHAM is the largest foreign chamber in Korea comprised of member companies with diverse interests and substantial participation in the Korean economy.
###
주한미국상공회의소, 포스트코로나 경제 회복을 위한 한국 정부-글로벌 제계 협력 촉진
'2020 제2회 국내 기업환경 세미나'
2020년 6월 26일 ? 주한미국상공회의소 (이하 "암참")은 6월 26일 서울 그랜드 하얏트 호텔에서 '제2회 암참 국내 기업환경 세미나'를 개최했다. 이날 행사에는 한미 정부 관계자와 글로벌 기업 대표 등 약 100여명의 전문가들이 참석했다.
코로나19 발발 이후 첫 대규모 정책 세미나를 치른 암참은 코로나19 상황 안정화 이후 국내 경제 활력 보강 및 외투기업 국내투자 활성을 위한 방안을 논의했다.
제임스 김 암참 회장 겸 대표이사는 개회사를 통해 "한국 정부는 이미 코로나19 대응에서 모범을 보였다"며 "한국 정부는 글로벌 제계와의 지속적인 파트너십으로 경제 회복에 있어 세계를 선도해 나갈 수 있다"고 말했다.
이날 축사는 미래통합당 서병수 의원(부산 부산진갑)과 성윤모 산업통상자원부 장관이 맡았다. 성윤모 장관은 "한국 정부는 포스트코로나 시대에 글로벌 경제가 재도약할 수 있도록 가장 앞장서서 뛰어갈 것이며 국제사회의 연대와 협력을 선도해 나가겠다"고 밝혔다. 해리 해리스 주한미국대사는 국내 미국 기업 관계자들에게 격려의 말을 전했다.
첫 번째 패널 토론에서는 암참 회원사들을 대상으로 코로나19가 미치는 영향에 대한 설문 결과를 살펴보았다. 쓰리엠, 에스티로더컴퍼니즈, 코스트코, 라임이 참석한 본 세션을 통해 코로나19 사태를 현명하게 극복해낸 기업의 우수 사례와 교훈을 공유하는 자리를 가졌다.
IBM, 에어비앤비, GE와 코트라와 마콜컨설팅그룹이 참여한 두번째 패널 토론에서는 한국판 뉴딜 실현을 위한 글로벌 기업의 기여 방안과 기업의 코로나 위기 극복을 위한 규제 완화에 대해 논의하는 자리를 가졌다.