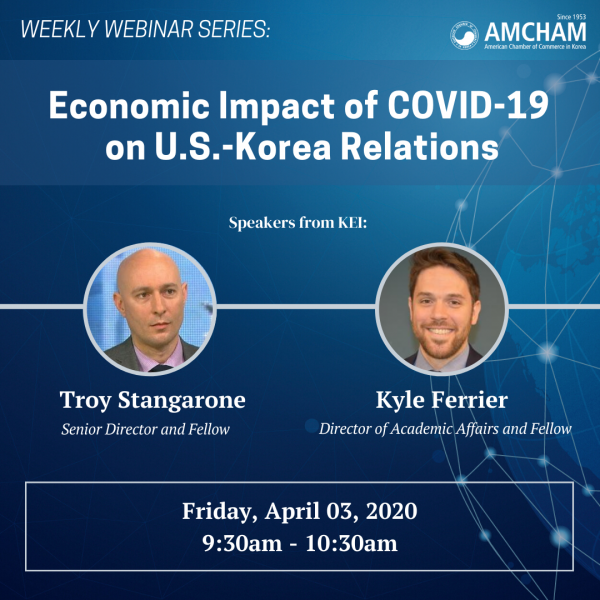 (한글은 아래 참조) 
?
April 3, 2020 ? The American Chamber of Commerce in Korea (AMCHAM) hosted a webinar on April 3 with the theme "The Economic Impact of COVID-19 on U.S.-Korea Relations." The guest presenters were Troy Stangarone, Senior Director and Fellow at the Korea Economic Institute of America (KEI), and Kyle Ferrier, Director of Academic Affairs and Fellow at KEI.
Comparing the economic situation of Korea and the world in previous financial crisis to the situation today, Director Ferrier noted, "Korea is in much better shape than when it was in '97-'98, and now what's most important for the U.S. and South Korea is to build upon our bilateral relationship and expand to multilateral cooperation. Korea is actually in a strong position and it should try to help other countries really face the threat that coronavirus poses on a more equal ground."
Noting that the travel and tourism was one of the industries hardest hit by the crisis, Senior Director Stangarone remarked, "It is going to take significant government intervention to revive the tourism and travel industry. Unless there are sort of common global standards backed by all the governments, people are going to be leery to travel."
AMCHAM planned this webinar series to address major issues in the global business economy while encouraging social distancing to prevent the spread of coronavirus. About 200 people attended the webinar online.
"AMCHAM is actively participating in social distancing under the strict goal of preventing the spread of the coronavirus. Given the circumstances, it is meaningful that we can promote communication and exchange of opinions using creative digital platforms such as this webinar series," said AMCHAM Chairman & CEO James Kim. "Discussing the future of Korea's economy via these webinars will allow for a faster recovery."
AMCHAM will conduct a total of five webinars in April beginning with this webinar. The upcoming presentations and discussions will cover a variety of related topics, including economy, personnel/labor, contracts, emotional management, and compatibility between work and family when working at home. The schedule and details of the webinar series can be found on the official AMCHAM website. 
# # #
AMCHAM Korea was founded in 1953 with a broad mandate to encourage the development of investment and trade between the Republic of Korea and the United States. AMCHAM is the largest foreign chamber in Korea comprised of 800+ member companies and affiliates with diverse interests and substantial participation in the Korean economy. 
###
주한미국상공회의소, 4월 웨비나 시리즈 개최
2020년 4월 3일 ? 주한미국상공회의소(이하 '암참')는 4월 3일 "코로나바이러스가 한미관계에 미치는 경제적 영향"이라는 주제로 웨비나를 통한 온라인 세미나를 성황리에 마쳤다. 본 행사의 발표는 트로이 스탄가론 (Troy Stangarone) 한미경제연구소(KEI) 선임국장과 카일 페리어(Kyle Ferrier) 한미경제연구소 학술국장이 맡았다.
페리어 학술국장은 과거 외환위기 당시 한국과 세계의 경제상황을 비교하며 "한국은 97-98년 IMF 상황에 비해 훨씬 더 나은 상태에 있고, 한미 양국 관계를 바탕으로 다자간 협력으로 확대되는 것이 가장 중요하다"며 "한국은 코로나 대응에 상대적으로 우위를 점하고 있는 만큼, 다른 국가들 또한 코로나바이러스의 위협을 이겨낼 수 있도록 도울 수 있다"고 말했다.
스탄가론 선임국장은 여행?관광산업이 이번 위기에 가장 큰 타격을 받은 산업 중 하나라는 점을 지적하며 "관광과 여행업을 되살리기 위해서는 정부의 상당한 지원이 요구될 것"이라며 "여행 재개 기준에 있어 전 세계가 동의할 만한 수준의 일종의 '글로벌 스탠다드'가 명확해지기까지는 시민들은 쉽사리 여행하기 어려울 것"이라고 말했다.
암참은 코로나바이러스의 확산을 방지하기 위한 사회적 거리두기를 실천함과 동시에 재계의 주요 현안을 다루는 행사로 본 웨비나를 기획하였다. 이날 온라인 접수를 통해 웨비나에 참석한 인원은 200명으로 집계되었다.
제임스 김 회장은 "암참은 코로나바이러스 확산 방지라는 엄중한 목표 하에 진행되고 있는 사회적 거리두기에 적극 동참하고 있으며, 이러한 상황에서 본 웨비나 시리즈와 같이 창의적인 디지털 플랫폼을 활용한 정보전달과 의견 교환을 도모할 수 있게 된 것을 뜻 깊게 생각한다"라고 말했다. 그는 또한 "4월 동안 진행될 웨비나 시리즈를 통해 위기 이후의 한국 경제에 대한 고민을 지속한다면 보다 빠른 회복이 가능할 것이다"라고 덧붙였다.
암참은 이날 웨비나를 시작으로 4월 간 총 5회의 웨비나를 진행할 예정이다. 코로나바이러스의 영향이라는 대주제로 경제, 인사/노무, 계약 이행, 스트레스 관리, 재택 업무와 가정의 양립 등 다양한 관련 주제에 대한 발표와 토론이 이루어질 계획이다. 당 웨비나 일정 및 세부 정보는 암참 공식 홈페이지에서 확인할 수 있다.

# # #
주한미국상공회의소는 1953년 한미 양국의 투자와 무역 증진을 목적으로 설립된 국내 최대 외국 경제단체이다. 한국 경제 각계에서 활발하게 활동하고 있는 800여 개의 회원사로 구성되어 있으며, 세미나, 워크샵, 네트워킹나잇 등 연간 약 80개의 행사를 진행한다. 암참은 양국간의 경제협력을 강화를 위해 한국 및 미국 정부 및 외국 기업 CEO 등 포함되는 공공 및 민간 부문의 인사와 만난다. 
?