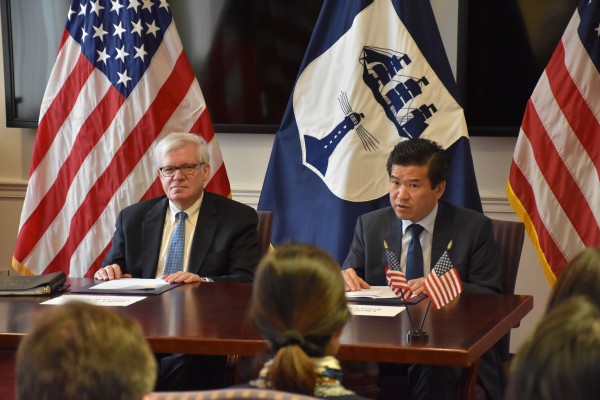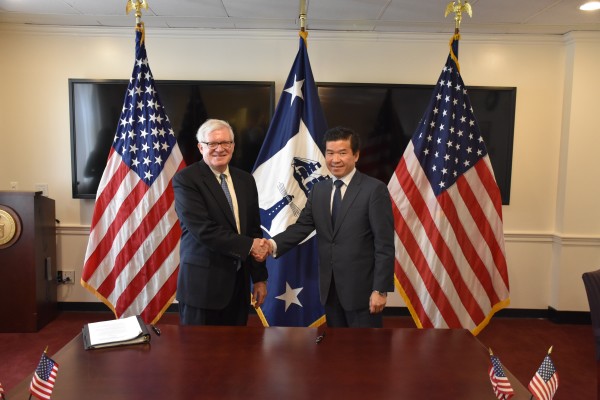 April 11, 2019 ? A Memorandum of Agreement (MOA) has been signed between the U. S. Department of Commerce's International Trade Administration (ITA) and The American Chamber of Commerce in Korea (AMCHAM Korea) to support export growth of U.S. small and medium-sized enterprises (SMEs) to South Korea.
This MOA signing is the first of its kind between ITA and a foreign-based American Chamber of Commerce for the specific purpose of expanding the number of U.S. small businesses exporting to another country. South Korea is currently the sixth largest trading partner in goods to the U.S. and is ably placed to support U.S. SMEs seeking an international market.
"It is a pleasure to welcome AMCHAM Korea to the Department of Commerce as we work together on our mutual goal of increasing the number of U.S. small businesses that export," said Under Secretary Gilbert Kaplan. "We are approached every day by small businesses, many of whom are not household names and are looking for ways to enter into new markets. Through this strategic partnership, we will have the opportunity to combine efforts and maximize investment for U.S. SMEs in Korea."
Through the ITA-AMCHAM Korea partnership, a "U.S.-Korea SME Center" will be established to support U.S. businesses with on-the-ground resources for information and solutions for entering the Korean market. The SME Center will also provide assistance in the areas of business, location, marketing, government procurement, and trade missions. AMCHAM Korea has set a target to reach 300 companies through the U.S.-Korea SME Center in the first year.
"AMCHAM Korea is honored to work even more closely with our partners in the U.S. Government by assisting in the success of U.S. SMEs entering the Korean market," said AMCHAM Korea Chairman & CEO James Kim. "There is tremendous potential for U.S. SMEs to play a bigger role in job creation, economic growth, and innovation in both countries and contribute to more balanced bilateral trade."
The MOA announced by Under Secretary Kaplan and President Kim lays the groundwork for advancing sustained year-on-year success through an increase in the number of U.S. SMEs exporting to Korea and the volume of U.S. SME exports to Korea.
AMCHAM Korea is a crucial partner and key ally of the U.S. Embassy in Korea as well as of American industries across diverse sectors. AMCHAM Korea also plays a vital role helping U.S. SMEs enter the Korean market as one of its three core missions, along with supporting U.S. companies in Korea and facilitating Korean companies' investment into the U.S.
###
AMCHAM Korea was founded in 1953 with a broad mandate to encourage the development of investment and trade between the Republic of Korea and the United States. AMCHAM is the largest foreign chamber in Korea comprised of 700 member companies with diverse interests and substantial participation in the Korean economy. 
###
미국 상무부 국제무역청, 주한미국상공회의소와 중소기업 수출 증진 위한 MOA 체결
2019년 4월 11일 - 미국 상무부 국제무역청(International Trade Administration)과 주한미국상공회의소(American Chamber of Commerce in Korea)는 9일 미국 워싱턴에서 한국으로 수출하는 미 중소기업의 무역 활동을 지원하기 위한 MOA(Memorandum of Agreement·합의각서)를 체결했다.
체결식에는 제임스 김(James Kim) 주한미국상공회의소 회장과 길버트 카플란 (Gilbert B. Kaplan) 미 상무부 국제무역 담당 차관 등이 참석했다.
이번 MOA는 미국 지역 중소 기업의 수출 확대를 골자로 한다. 국제무역행정청과 외국주재 미 상공회의소 가 협약을 체결한 건 사상 처음이다. 한국은 미국의 여섯 번째 교역상대국으로, 미국 중소기업이 글로벌 사업을 확대하는데 뒷받침할 수 있을 것으로 기대된다.
국제무역행정청과의 이번 파트너십의 일환으로 주한미국상공회의소는 '미한중소기업센터(U.S.-Korea SME Center)'를 설립할 계획이다. 국내 시장에 진출하는 미 중소기업을 위한 각종 정보 및 솔루션을 제공하는 창구로서 회원사를 대상으로 서비스 지원에 나설 방침이다. 서비스 지원은 비즈니스 멘토링, 마케팅, 정부 조달 및 무역사절단 등의 영역에서 제공된다. 주한미국상공회의소는 첫 1년 동안 300개 기업에 대한 지원을 목표로 설정했다.
제임스 김(James Kim) 주한미국상공회의소 회장은 "주한미국상공회의소가 미 중소기업의 성공적인 한국 시장 수출을 지원할 수 있어서 영광이다"라며 "미 중소기업은 양국에서 일자리 창출, 경제 성장 및 혁신을 위해 더 큰 역할을 담당할 수 있는 잠재력을 갖고 있으며, 양국이 더욱 균형 잡힌 교역 관계를 맺는 데 일조할 것"이라고 소감을 밝혔다.
주한미국상공회의소는 주한 미 대사관 및 미 재계의 핵심적인 주요 협력 기관이다. 국내에 진출한 미국 지역 기업에 대한 지원 및 한국 기업의 대미 투자 촉진과 더불어 3대 과제 중 하나인 미 중소기업의 국내 시장 수출 지원에 중추적인 역할을 맡고 있다.
길버트 카플란 미 상무부 국제무역 담당 차관은 "미 중소기업의 한국 수출 확대라는 공동의 목표를 위해 주한미국상공회의소와 협력하게 돼 기쁘다"며 "신규 시장 진출을 모색하는 기업의 문의를 매일 접하고 있다. 양 기관의 전략적 파트너십을 통해 중소기업의 한국 내 투자를 최대로 끌어올릴 수 있는 기회가 마련될 것"이라고 말했다.
한편, 주한미국상공회의소는 1953년 한미 양국의 투자와 무역 증진을 목적으로 설립된 국내 최대 외국 경제단체이다. 한국 경제 각계에서 활발하게 활동하고 있는 700여 개의 기업회원 및 제휴사로 구성되어 있다. 암참은 양국간의 경제협력을 강화를 위해 한국 및 미국 정부 및 외국 기업 CEO 등 포함되는 공공 및 민간 부문의 인사와 만난다.
###