POSCO discusses balanced regional growth with government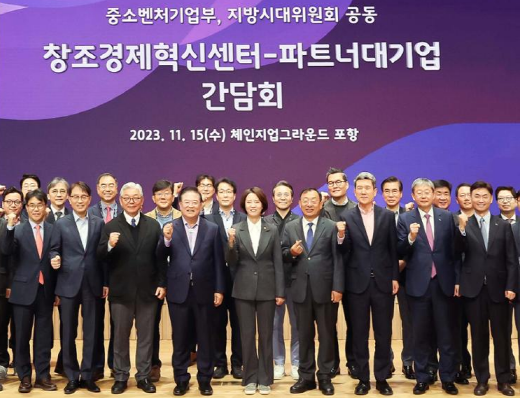 By Lee Min-hyung, The Korea Times - POSCO Group has pledged to enhance partnerships with relevant organizations to balance regional growth, the steelmaker said Wednesday.
A group of 40 executives from POSCO and the government joined hands to discuss the agenda at POSCO's startup incubating facility, CHANGeUP GROUND. More than 160 companies are working at the startup hub. Their combined corporate value is 1.7 trillion won ($1.3 billion), according to POSCO.
The steelmaker presented measures for co-prosperity between big companies and startups during the latest meeting with executives from the Presidential Committee for Balanced National Development and the Ministry of SMEs and Startups.
Korea is grappling with a falling population in regional areas. President Yoon Suk Yeol and his administration also put the agenda on the crucial state affairs list, as more young people move to Seoul and its surrounding cities for quality jobs.
POSCO Group established a venture fund worth 2.7 trillion won in 2019 and has since invested in the startups. The company plans to keep supporting companies that have huge growth potential, with a view to making them the group's next strategic future growth engine.
The government authorities also pledged to support POSCO and other conglomerates to keep expanding their investment for balanced regional growth here.
"The government will help big companies and startups to drive their strategic win-win partnerships in an innovative manner," Minister of SMEs and Startups Lee Young said.
The chief of the presidential committee also pledged to keep elevating ties with conglomerates and startups for mutual growth.
"We will spare no efforts in supporting startups in provincial areas, so they become a key driving force for innovation," Woo Dong-ki, head of the committee, said.
POSCO Group said it will keep building a virtuous cycle for more job creation across the nation, and help contribute to balanced growth for Korea.
"POSCO will keep setting a series of exemplary cases to revitalize the regional economy by tightening partnerships with relevant central authorities and local governments," an official from the group said.
Source: https://www.koreatimes.co.kr/www/tech/2023/11/129_363259.html ​