Hyundai Motor breaks ground for Korea's first EV plant in Ulsan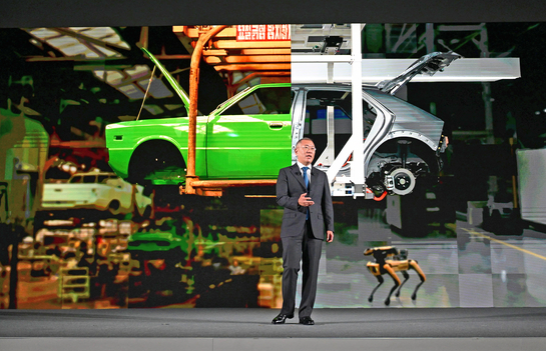 BY SARAH CHEA, Korea JoongAng Daily - Ground was broken Monday for Hyundai Motor's 2 trillion won ($1.5 billion) electric vehicle factory in Ulsan as the automaker accelerates the shift to electrification despite the faltering global demand for EVs.
It will be the first EV-dedicated plant in Korea and the world's third-largest automaker's first domestic automotive manufacturing plant in 29 years since the last one was built in Asan, South Chungcheong, in 1996.
Situated on a 548,000-square-meter site in Ulsan, the plant will have 200,000 annual capacity. Construction will finish in 2025, with mass production planned to start in the first quarter of 2026.
GV90, Genesis's large-size electric SUV, will be the first model manufactured in the Ulsan factory.
"The new EV-dedicated plant in Ulsan is the beginning of a promising future for the next 50 years and the era of electrification," Hyundai Motor Group Executive Chair Euisun Chung said Monday at the groundbreaking ceremony.
"A half-century ago, in Korea, a wasteland for automobiles, Hyundai Motor succeeded in developing our independent model and internalizing equipment and auto parts," Chung said. "The accumulated technology in Ulsan nourished us to build factories overseas in countries like the United States and India, which helped Hyundai to take a leap forward to become a global brand."
Hyundai Motor said the Ulsan plant will prioritize the safety and convenience of their employees by applying an innovative manufacturing platform including demand-driven, AI-based intelligent control systems.
A smart logistics system will be applied, including automated parts logistics, which will help it diversify vehicle models, respond to global market changes and automate Assembly facilities to improve productivity and quality.
Solar power panels and upcycled concrete panels will be applied to the building facade, making it a sustainable plant that minimizes carbon emissions.
Chung emphasized the new EV plant builds on the vision of Hyundai's founder Chung Ju-yung, who believed the car industry would become the cornerstone of the Korean economy and underpin the country's industrial development.
More than half a century ago, he chose Ulsan as the place to help create a better outlook and realize Korea's mobility dreams. Now, the new EV plant will build on that legacy with a global impact, Hyundai said.
"We have the world's greatest strength, and that strength is the world's best craftsmen," the late founder Chung said in a video reproduced through AI. "I am confident that thanks to their ability and dedication, Korean cars, our cars, will soon take the world by storm."
Hyundai also opened an exhibition presenting the heritage of Hyundai's journey that included a display of a restored Cortina, the first vehicle produced at the Ulsan plant. The exhibition will be open to the public from January next year.
Hyundai's new EV plant comes despite many global automakers like General Motors and Ford announcing a halt or delay in their EV investment amid the slowing demand for EVs.
"EV demand will constantly grow in a broad framework, so Hyundai Motor will bend the rules to [proceed with the investment]," Chung said.
Hyundai is also building a $5 billion EV plant in Georgia, which will start mass production in late 2024.
General Motors recently said it will delay the production at its joint battery plant with LG Energy Solution in Tennessee by a few months. The Tennessee plant in Spring Hill, which was set to become operational at the end of the year, will start operation early next year.
The U.S. automaker also withdrew its target of producing 400,000 EVs by the first half of next year amid the weak demand.
Ford also said it will delay the operation at its Kentucky plant — a joint venture with SK On — amid weakening EV sales.
Tesla CEO Elon Musk hinted at a possible delay in the construction of a plant in Mexico and the mass production of its Cybertrucks after it reported a 44 percent fall in net profit in the third quarter compared to a year earlier.
Source:https://koreajoongangdaily.joins.com/news/2023-11-13/business/industry/Hyundai-Motor-breaks-ground-for-Koreas-first-EV-plant-in-Ulsan/1911582