Blockchain developers gather in Seoul for annual Upbit D Conference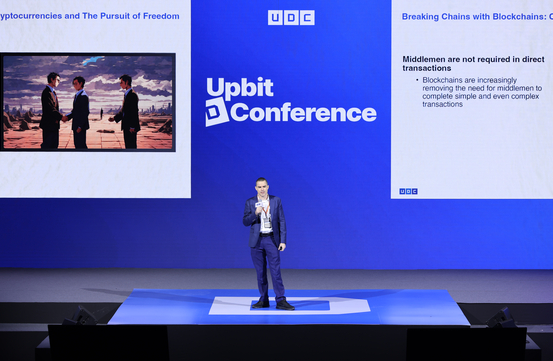 BY JIN MIN-JI, The Korea Herald - Dunamu, which operates Upbit, Korea's largest cryptocurrency exchange, hosted its annual Upbit D Conference (UDC) in Seoul on Monday.
The conference, which carried the slogan "All That Blockchain," brought blockchain developers together to discuss their industry's potential and examine the changes their technology has brought to daily life.
The D in UDC stands for the words developer, digital asset and decentralized.
"The UDC has has grown popular, as the core topics shared and participating companies have expanded from technologies [into other sectors], along with the event's continued growth and changes in the social situations," said Dunamu Chairman Song Chi-hyung in the opening speech.
Song added that the UDC has grown into a comprehensive event alongside the expanded influence of blockchain across economy, culture and society.
"UDC, hosted by Dunamu every year since 2018, is an event we hold with a sense of duty in a bid to activate and contribute to commercialize Korea's blockchain ecosystem."
At the one-day event, which is in its sixth year, 39 blockchain experts shared their insights into blockchain's applications across finance and entertainment as well as policy and regulations at the Grand Walkerhill Seoul in Gwangjin District, eastern Seoul.
Speakers included CoinDesk Executive Director Emily Parker and SK Telecom Executive Vice President Oh Se-hyeon. Some 3,700 individuals signed up to attend this year's UDC, an increase from the 3,000 people who attended last year's two-day event, which took place in the southern port city of Busan.
Three keynote speakers — Matt Sorg, head of technology at Solana Foundation, Jide Fashola, head of technical integrations at Cardano Foundation and Bitcoin.com founder Roger Ver — discussed various aspects of blockchain technology, including its sustainability, its integrations with AI and its applications in finance.
"The future of finance is leaving the past in the dust," said Ver in his UDC keynote speech titled "Breaking Chains with Blockchains: Cryptocurrencies and the Pursuit of Freedom."
"What might take a bank a whole week to perform, blockchains settle in minutes," Ver said, adding that cryptocurrency makes global finance more effective by allowing any individuals, regardless of qualifications, to make transactions without an intermediary.
Sorg touched on the ways in which blockchain technology can strengthen AI, while Fashola discussed the industry's environmentally friendly advancements.
This year's event included both online and offline sessions. Speakers in the online session included The Sandbox co-founder Sebastien Borget, EOS Network Foundation founder and CEO Yves La Rose and Jun Song, Dunamu's synergy team project lead.
The blockchain industry went through a cryptocurrency winter last year, when the value of popular cryptocurrencies declined precipitously amid a series of dramatic events such as the bankruptcy of Bahamas-based cryptocurrency exchange FTX and the crash of Luna, which was once among the top 10 largest cryptocurrencies in the world by total market capitalization.
The market has improved since, data from Korea have shown. The country's virtual asset market capitalization increased 46 percent in the first half of the year compared to the previous half-year term, driven by the rebound in cryptocurrency prices and investor sentiment, according to the financial regulator.
"Dunamu will play a key role in putting a spotlight on and expanding the blockchain ecosystem on diverse levels through the UDC," said the company.
Source:https://koreajoongangdaily.joins.com/news/2023-11-13/business/finance/Blockchain-developers-gather-in-Seoul-for-annual-Upbit-D-Conference/1911858