Incheon urged to maximize potential to replace Hong Kong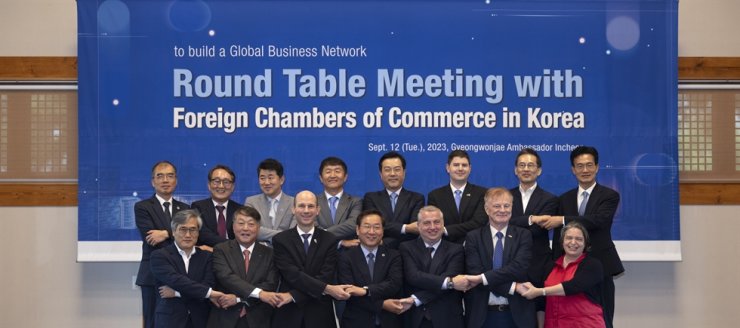 Port city needs to foster renewable energy to attract foreign investments​
By Park Jae-hyuk, The Korea Times - Incheon should take advantage of its location suitable for supplying renewable energies, as well as its status as the gateway for international interactions, to achieve its goal of becoming a global business hub replacing Hong Kong, according to foreign chambers of commerce in Korea, Tuesday.
During a roundtable meeting on ways for the coastal city to attract more overseas investment, foreign chamber executives called for the supply of green energy, eased regulations and more use of the English language.
Korean-German Chamber of Commerce and Industry (KGCCI) President Martin Henkelmann, who mentioned the origins of the two countries' diplomatic ties dating back 140 years in Incheon's port of Jemulpo, said it is important for German firms to have access to renewable energy.
"They want to be sure that they get green energy to prepare for their RE100 goals," Henkelmann said, recognizing Incheon for its efforts to transform into a green industry-focused city.
European Chamber of Commerce in Korea (ECCK) Energy & Environment Committee Chairman Moon Go-young emphasized Incheon's unique and attractive location for renewable energy suppliers.
As the co-CEO of the Korean subsidiary of RWE, Germany's largest power company, he expressed his company's interest in offshore wind power generation for foreign companies in the city.
"ECCK Chairman Philippe Van Hoof is interested in European companies playing in Incheon's energy sector," Moon said. "If we use Incheon sea area to generate renewable electricity, it means a lot to global companies to be located in Incheon."
Predictable regulations, tax incentives
French Korean Chamber of Commerce and Industry (FKCCI) Chairman David-Pierre Jalicon, who also expects a French company to build an offshore wind power plant in Incheon, asked for predictable and consistent regulations, regardless of jurisdiction.
"Regulations should be stable, and there should be no gray area," Jalicon said.
In addition, he wanted eased visa rules for French students in Korea, who are fluent in the Korean language and familiar with Korean culture, to avoid difficulties in getting jobs here.
The KGCCI president also shared parts of the FKCCI chairman's opinions, given that German companies are looking for countries having "very eased regulations" as their next investment destinations in Asia.
Giancarlo Grosso, director of Strategy & Business Planning at the American Chamber of Commerce in Korea (AMCHAM), which has sought to make Korea a regional headquarters in Asia, suggested Incheon streamline its administrative procedures, so as to be more efficient and attractive.
He also talked about offering incentive packages, for the Korean city to compete with other Asian financial hubs such as Japan, Hong Kong and Singapore.
"This could involve providing corporate tax incentives, grants and subsidies," Grosso said.
Incheon Mayor Yoo Jeong-bok said that the city government has talked with the central government to ease regulations further by revising the Special Act on Designation and Management of Free Economic Zones.
"Although the Incheon Free Economic Zone has been more favorable than other regions in terms of administrative procedures and various financial incentives, I admit there needs to be more benefits," Yoo said. "The city government will streamline administrative procedures as much as possible."
Kim Tae-hyung, commissioner of Invest KOREA, a national investment promotion agency established as part of the Korea Trade-Investment Promotion Agency (KOTRA), said that President Yoon Suk Yeol and the central government have also stepped up efforts to tackle the challenges.
Overcoming language barriers
Korea's use of English as a foreign language, instead of the official language, was mentioned as another obstacle to Incheon's goal during the discussion session, which also provided simultaneous interpretation.
"The reason why German investment goes to Hong Kong and Singapore is their English-speaking people," the KGCCI president said. "The language is so important for foreigners to come."
British Chamber of Commerce in Korea (BCCK) Executive Director Lucinda Walker agreed that the inconvenience in using English has partially caused difficulties in attracting foreign investors to Korea, although she recognized Incheon for making efforts to change that.
She hoped for Incheon to accommodate British companies, as well as schools and universities from the U.K., as they are interested in coming to the city, which hosts five foreign university campuses and three international schools.
As one of the two female participants among the 16 discussants, the BCCK executive director also emphasized the importance of diversity, anticipating more Korean women will play major roles in workplaces.
Finland Chamber of Commerce and Industry Chairman Heikki Ranta said Korea has been more strategically important for Finland, which joined the North Atlantic Treaty Organization (NATO) recently, amid the growing geopolitical risks in Europe and Asia.
He advised Incheon to seek cooperation with startups in his country.
"We have a potential of technology startups," Ranta said, mentioning that Finland has hundreds of startups founded by people laid off from Nokia.
Korea Chamber of Commerce and Industry Executive Director Park Che-khun suggested Incheon attract medical tourists by taking advantage of the city's reputation as a biopharmaceutical industry hub and local branches of Severance Hospital and Asan Medical Center there.
"It is also important for Incheon to be an attractive city for Koreans, especially younger generations," he said. "For the city to be attractive to young people, it needs competitiveness in culture and art."
The Incheon mayor promised efforts to satisfy the demands of the roundtable participants.
"Thank you for your constructive opinions," he said. "Incheon will definitely become an international city representing Korea."
The Korea Times President-Publisher Oh Young-jin, who moderated the discussion, said that the globalization of Incheon is important not just for the city, but also for Korea and the world.
Source: https://www.koreatimes.co.kr/www/tech/2023/09/419_359092.html