Labor, tax reforms are top priority to make Korea a global business hub: AMCHAM CEO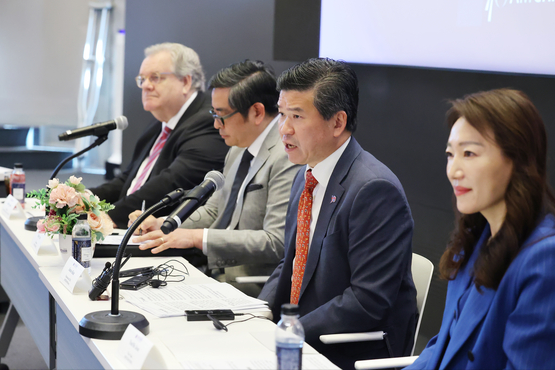 BY SHIN HA-NEE, Korea JoongAng Daily - Labor and tax reforms are top priorities for Korea to become a global business hub, according to the CEO of the American Chamber of Commerce in Korea (AMCHAM) on Thursday. Commemorating the 70th anniversary of the Korea-U.S. alliance and the establishment of Amcham, the chamber held a press conference on Thursday in Yeouido, western Seoul.
The annual 2023 AMCHAM Business Survey, conducted earlier this year, was released that day.
"We view labor policy, tax policy, CEO liability, IP [intellectual property] protection and digital economy as the top five areas of reform needed for Korea to realize its potential as a regional headquarters," said James Kim, CEO and chairman of the AMCHAM. Kim called on the government to make Korea's corporate tax and foreign income tax policies more competitive compared to other major business hubs.
"For example, Korea's flat tax rate for foreign workers introduced this year has a 20-year cap, versus the permanent flat tax in Japan and Singapore," said Kim. Foreign workers pay an income tax rate of 19 percent for 20 years. After that, a regular income tax rate ranging from 6 percent to 45 percent is applied.
Rigid labor market and digital regulations enforcing data localization were also cited as areas in need of improvements. Kim also pointed out that the CEO's heavy personal and criminal liability poses a considerable risk in business operation.
In terms of environment, social and governance (ESG) management, frequent regulatory changes were cited as the biggest obstacle in Korea, according to the 2023 Amcham business survey.
Korea ranked as the second most preferred destination for regional business headquarters, following Singapore, for the second consecutive year.
"As a Korean-American who has been in Korea now for nearly 20 years, I can say with confidence that U.S.-Korea relations are at the best I have seen during my time here," said Kim. "AMCHAM looks forward to working with the Korean government to promote Korea as the best place to do business in the Asia Pacific."
Source: https://koreajoongangdaily.joins.com/2023/02/23/business/industry/Korea-Amcham-KoreaUS-Alliance/20230223175144345.html