Yoon urged to enable Korea to fulfill potential as global business hub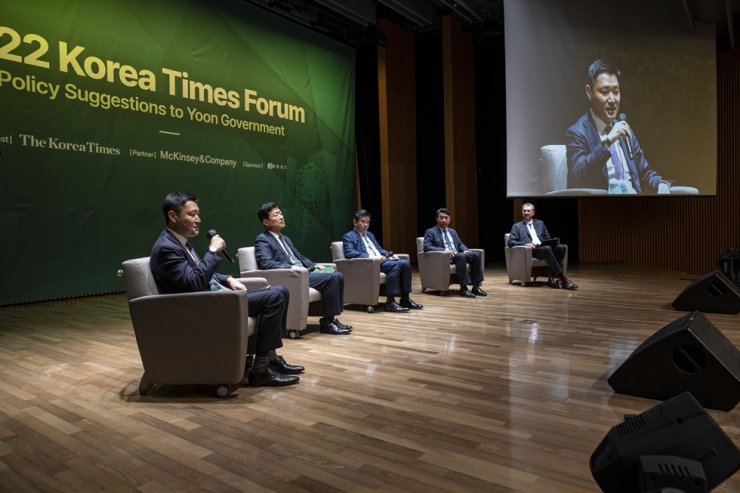 Business experts view Korea-unique standards as obstacles to hub plan
By Park Jae-hyuk, The Korea Times - President Yoon Suk-yeol should accelerate efforts to abolish regulations conflicting with international standards, in order to prevent Korea from repeating failures in its decades-long drive to become a global business hub, according to business leaders from the U.S. and Europe as well as renowned Korean experts participating in the 2022 Korea Times Forum, Tuesday.
The panelists expressed optimism overall about the possibility of Asia's fourth-largest economy becoming an attractive destination for multinational companies, thanks to the new government's deregulatory stance. But at the same time, they pointed out that the country still has many things to do to realize its potential as a business hub.
"Our board of governors wrote a letter to President-elect Yoon when he became the president, and gave him our strong confirmation that we want to help make Korea a regional hub," American Chamber of Commerce in Korea (AMCHAM) Chairman James Kim said. "But we did ask him to do a few things ― one is taxation both at corporate and individual level, Korea-unique standards and some CEO risk that happens."
European Chamber of Commerce in Korea (ECCK) Chairperson Dirk Lukat mentioned international standards, labor reform and transparency in regulations as the three key areas pointed out by European businesses active in Korea. "With international standards accepted and applied in Korea, administrative processes will be simplified allowing new products to reach markets timely, reducing the cost and making it more attractive for foreign companies to invest in Korea," he said. "Lately, during the COVID-19 pandemic, we saw some areas where foreigners were discriminated particularly, if you look at the acceptance of overseas inoculations."
Korea Chamber of Commerce and Industry (KCCI) Executive Vice Chairman Woo Tae-hee agreed that strict regulations, high corporate taxes and labor market rigidity have acted as obstacles to foreign companies doing business here, making it especially difficult for Korea to achieve its goal of becoming a global financial hub. From that standpoint, he was skeptical about newly elected Incheon Mayor Yoo Jeong-bok's strategy to make the city a financial hub of East Asia by attracting companies, banks and financial institutions that are leaving Hong Kong due to security issues. "To attract money from Hong Kong or elsewhere, you need to have a free flow of information and capital. To do this, he needs to establish a transparent and free financial market that is not regulated by the government," Woo said. "I don't have confidence that Incheon has a better chance than Hong Kong."
Korean Academic Society of Business Administration President Han Sang-man, who is also a professor of Sungkyunkwan University Business School, called for increased labor market flexibility in order for Korea to become a global business hub. "We should consider testing a flexible labor system by applying it to innovative industries or foreign companies for a short period of time, so that we can analyze how the system affects the entire job market," he said.
Right moment to achieve goal
The panelists expected Korea to be able to become a global business hub, once the country solves the problems they mentioned.
"The future is already here," Kim said. "We have seven members on the AMCHAM board of governors who are running Asia right here from Korea." The lobby group for American businesses here has made continuous efforts over the past few years to relocate regional headquarters of U.S. firms to Korea from other business hubs in Asia, such as Singapore and Hong Kong. Those efforts were based on its confidence in Korea's business prospects and its belief that Korea is already well-positioned to emerge as a regional business headquarters, according to the AMCHAM chairman.
A recent survey of the organization's members also showed that Korea was selected as the second-most-preferred destination for regional business headquarters in Asia after Singapore, confirming once again Korea's attractiveness as an investment destination for multinational companies. Citing the recent relocation of The New York Times' Asian digital hub to Korea from Hong Kong, the AMCHAM chairman noted that the head of the U.S. media company's Seoul office was also satisfied with Korea's digital infrastructure, human resources and people fluent in English.
"Now is the time [for Korea] to compete aggressively with other countries," he said. Lukat said that the ECCK is keen to support Yoon on his declared target of deregulation. As the CEO of Schenker Korea, the local subsidiary of German logistics firm DB Schenker, he advised the Yoon administration to take advantage of the strengths of Incheon International Airport and Busan Port as distribution hubs for overseas companies.
"Both the Incheon International Airport and the Busan Port are part of free economic zones, adding to the attractiveness of the state-of-the-art infrastructure," he said. "I hope the Incheon government will not concentrate only on banking or finance, but also to increase this hub."
Woo saw that Schenker Korea's construction of distribution centers here shows Korea's attractiveness as a regional hub as well as a global logistics hub. Although he was skeptical of efforts to foster a financial hub in Korea, the KCCI executive vice chairman was confident about Korea becoming an R&D hub. The World Health Organization's designation of Korea earlier this year as a global biomanufacturing training hub supported his claim. "The best attractive factor for Korea nowadays is the global value chain, because our firms are doing very well and making progress," he said.
Han agreed with other panelists on Korea's potential to become a global business hub. However, the professor emphasized the necessity of shifting paradigms, saying that a "platform" has been more important than a "hub" in this era of digital transformation. "Korea has leading businesses, such as Samsung, LG, Hyundai Motor, SK and POSCO," he said. "For Korea to play its role as a platform in Asia, the government should establish strategies to foster upstream and downstream industries."
Source: www.koreatimes.co.kr/www/common/printpreviews.asp?categoryCode=419&newsIdx=331397