Korea should deregulate to become Asian financial hub: AMCHAM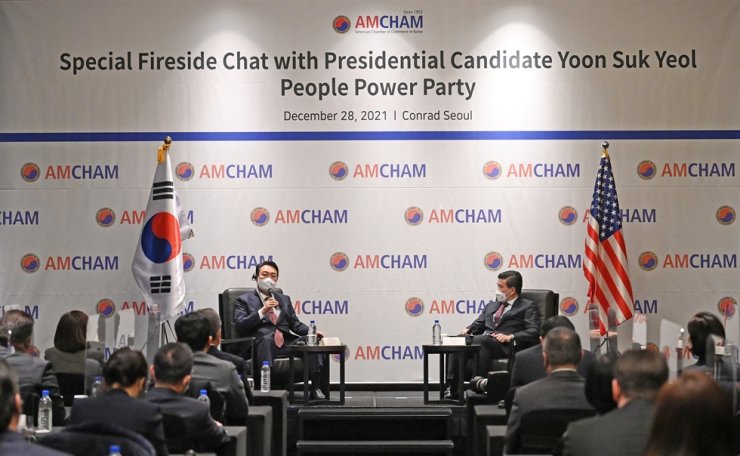 By Lee Kyung-min, The Korea Times - American Chamber of Commerce in Korea (AMCHAM Korea) called on President-elect Yoon Suk-yeol to remove regulations so as to make Korea the best business destination for global companies in Asia, Sunday.
Thirty-four members of the AMCHAM board of governors sent a letter to the presidential transition committee on behalf of the U.S. business community in Korea detailing a set of policy recommendations for the incoming administration.
AMCHAM board members highlighted the need to increase the flexibility of employment conditions, mitigate CEO risks, restore the flat tax rate for foreign residents and improve the regulatory environment to ensure effective communication.
Korea's labor market, they added, needs an extension of exemptions from the 52-hour workweek limitation. They called for modifications to the current strict criminal liability placed on CEOs in the event of fatal industrial accidents along with other failings in corporate activities, in line with other advanced economies that treat such issues as a civil matter. Fanning the collective concern is the implementation of the Serious Accident Punishment Act (SAPA) whereby the CEO of a large firm is subject to a minimum prison term of one year or a fine of up to 1 billion won ($843,000), if fatal industrial accidents such as worker deaths occur at smaller partner firms.
Also needed is the restoration of the flat tax rate for foreign residents and revision of the inheritance tax on foreign residents, they argued. Public consultations and hearing sessions attended by global firms operating in Korea should precede changes to government regulations in order to reflect these concerns and to provide a forum for making suggestions in advance, they added.
"AMCHAM is grateful to have met with President-elect Yoon Suk-yeol at a special meeting with AMCHAM member companies last December," AMCHAM Chairman and CEO James Kim said. "We discussed his vision for creating a global investment environment to enhance Korea's competitiveness and boost trade between the U.S. and Korea."
Source: www.koreatimes.co.kr/www/tech/2022/05/419_328318.html?da