AMCHAM leader sees tennis as start of K-sports wave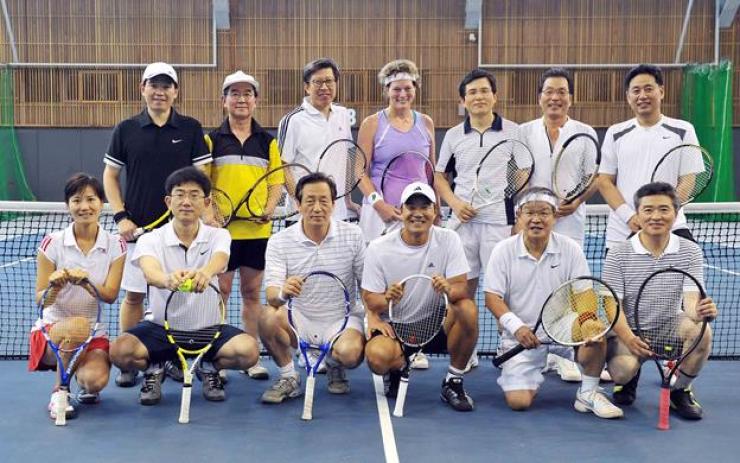 By James Kim, The Korea Times - Two things become apparent for anyone who spends time around me; I am passionate about American Chamber of Commerce in Korea (AMCHAM), and I love tennis. For AMCHAM, it is pretty simple: I want to see all of our member companies succeed in Korea and the United States. The unprecedented growth we saw in 2021 is a testament to the value of the AMCHAM staff, Board of Governors, and Committee Co-Chairs. They have contributed considerably to the AMCHAM ecosystem and the U.S.-Korean business community at large.
But there is more to me than AMCHAM. Tennis has also contributed to my personal and professional growth. At age 10, I picked up my first racket and have yet to put it down. I still play two to three hours every Saturday and Sunday with players 15 to 40 years younger than I am -- many of whom were or are currently professional players. I enjoy the challenge of "winning and competing." The competitive drive that I get from tennis extends beyond the game to become a key motivator in business.
In some ways, the court has become my boardroom. I have played with former U.S. Ambassadors Christopher Hill, Kathleen Stephens, Sung Kim, and current U.S. Ambassador to Indonesia. I have also played with former South Korean President Lee Myung-bak, current Mayors of Seoul and Busan (Oh Se-hoon and Park Hyeong-joon), and many other Korean government officials. Tennis has allowed me to establish many close relationships on and off the court. These connections and friendships are priceless.
At AMCHAM, one of our stated goals is to make Korea the Regional Headquarters for Asia. The Korean Wave, comprised of K-POP (BTS), K-DRAMA (Squid Games), K-MOVIES (Minari), and K-CUISINE (BIBIGO), has already boosted the Korean brand and image. Korea is now a leading influential player in the world. But we have more to do. K-SPORTS is the next Korean Wave, and I would love to see tennis pave the way for another K-success.
As an example, Korean tennis professional Kwon Soon-woo has a lot of potential globally. He is currently ranked 53rd in the world and 2nd in Asia. He just captured his first ATP Championship at the Astana Open last September. This is the first time a Korean player has won an ATP tournament since 2004, when my good friend Lee Hyung-taik won the Sydney International tournament. The length of time between the two championships demonstrates the difficulty in succeeding professionally in tennis; nearly twenty years have elapsed since Lee Hyung-taik's victory.
Kwon Soon-woo is currently playing in the Australian Open, one of the four Grand Slams (along with the French Open, Wimbledon, and the U.S. Open). He won his first-round but lost in a long, difficult match with the 14th ranked player in the world, Denis Shapovalov from Canada. The match lasted nearly four hours and 30 minutes, a true test of both players' physical and mental stamina. Although Kwon Soon-woo lost the match, he proved he could compete with anyone on the tour. I truly believe that he can compete with the likes of Novak Djokovic and Daniil Medvedev, the world's 1st and 2nd players. There is a good chance he could beat Roger Federer today.
For a Korean player to compete at this level is a testament to the culture of hard work, sacrifice, and focus. Tennis is not a team sport, and there are no salaries. Although sponsorships may be available, you can only make a living if you win. Simply put, each player has to finance their career through prize earnings, paying for a coach, a trainer and other support personnel, along with the costs involved with travel and logistics. It takes a good deal of tenacity and drive to become a Top 100 player in the world, let alone stay there, especially when an injury may force early retirement.
Because of my passion for this game, I would love to see more leading Korean players at the top of their games globally. Similar to the Korean golfers (male and female) who are already in the top echelon, I remain bullish about the prospects of Korean players winning globally in tennis. However, players such as Kwon Soon-woo needs sponsors and other supporters who can help make their dream of achieving global success a reality. I hope that through tennis, Kwon Soon-woo can enhance a new K-category of Sports to the Korea Wave.
James Kim is chairman and CEO of AMCHAM Korea.