AMCHAM walks the talk as female leaders talk ESG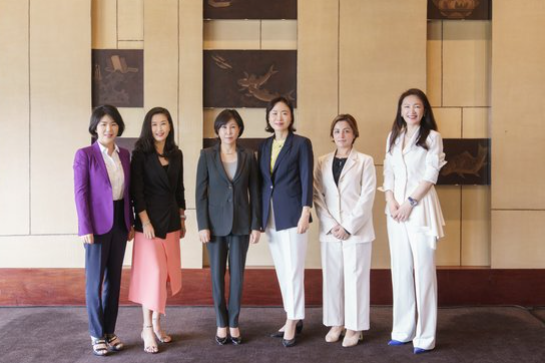 Six female leaders at the American Chamber of Commerce (Amcham) pose for a photo prior to the monthly meeting held on June 9
at the Grand Hyatt Seoul in central Seoul. From left are: president of Amway Korea Bae Su-jung,
country director of Hawaiian Airlines Yu Soo-jin, CEO of Citibank Korea Yoo Myung-soon,
managing director of FedEx Korea Chae Eun-mi, senior vice president and CEO of P&G Korea Balaka Niyazee
and managing director of PersolKelly Korea Jeon You-me. [AMCHAM]​
JoongAng Daily , Kim Kyung-Mi & Yoon, So-Yeon - ​The American Chamber of Commerce (AMCHAM) now has seven women on its 35-member board of governors, an all-time high in its 68-year history. It also has a female director.

Founded in 1953, AMCHAM holds monthly meetings to discuss the business environment in Korea and strategies to improve it. A major theme this year is ESG — environmental, social and governance — and among the items on many company agendas is the effort to include more female executives in company leadership. U.S. companies in Korea are no exception, and the female leaders at AMCHAM are at the forefront of the movement.

JoongAng Ilbo interviewed seven women who are in top positions at the chamber.

They are FedEx Express Korea Managing Director Chae Eun-mi, who is on the board of directors, and six board of governors members: PersolKelly Managing Director Jeon You-me, Procter & Gamble (P&G) Korea Senior Vice President and CEO Balaka Niyazee, Hawaiian Airlines Country Director Yu Soo-jin, Coca-Cola Korea General Manager Choi Su-chong, Amway Korea President and Representative Director Bae Su-jung and Citibank Korea CEO Yoo Myung-soon.

"Korea has a good corporate environment across all sectors," said P&G's Niyazee. Niyazee has worked in 10 cities in four different countries including India over the past 22 years. "Korea has the finest IT infrastructures and 5G network, and a developed digital environment makes it desirable for innovative challenges for a global company."

Niyazee added that P&G often observes Korean consumer reactions to new products before they roll out the products globally, such as razors using the latest heating technology or foam-type detergents.

While the female leaders gave high scores to Korea for ICT, the country's rigid labor structure was said to be holding the country back. Jeon of PersolKelly said, "The labor law right now does not feel like it's helping the laborer and growing companies, but actually damaging productivity." Yoo of Citibank pointed out that, "The change for Korean company growth must be accepted by changing labor-related laws and regulations to guarantee a higher level of flexibility in the labor market."

Chae of FedEx lamented the lack of women in business. Chae became the first Korean woman to be appointed managing director of a foreign special delivery company in 2006 and the first woman to be named Vice Chairman of Amcham, in 2015.

"Fewer than 20 percent of Korean businesspeople are female, and only nine percent of tech startup company CEOs are female," Chae said. "Almost half of women aged between 15 to 54 experience career interruption due to reasons such as marriage and childbirth. It's crucial that [companies] secure a diverse pool of talent in order for the Korean economy to grow. There needs to be a culture where more female businesspeople are nurtured and women are encouraged to found their own businesses."

Niyazee also pointed out the necessity of having more women in business, citing Christine Lagarde, president of the European Central Bank, who said that Korea's GDP could increase by as much as 10 percent if female labor participation increases.

"The second impact of having more women in the workforce is especially relevant for Korean society, which is an aging society. By adding more women in the workforce, we are going to create more economic power and put power in the hands of women, which will actually allow our economies to grow," Niyazee said.

One rule that has to be kept by all companies is fairness, the leaders said. Should fair play be maintained, a company can heighten its competitiveness while also making better use of its female workforce.

"Over half of the executives at Amway Korea are female, but we have never made special rules in favor of women, nor do we ever plan to," said Bae of Amway. Bae was appointed as the only female executive at the age of 36. "It was a result of natural selection, after placing the right people at the right spot according to their capabilities. There are certain fields of work where women and men excel differently, so it shouldn't simply be assessed according to gender ratio but diversity of people's skills. It's important that the environment ensures female talent to be given equal chances."

Yu of Hawaiian Airlines also emphasized the need for diversity and fair opportunities. She had worked in various fields over the past 30 years, including airlines, autos and finance.

"With the rise of ESG in Korea, how the company treats people, including diversity and equal opportunity, became more important than ever, which is highly encouraging," Yu said.

The government's role is crucial in encouraging women to take part in the economy, the leaders also said. The state needs to make sure that women's burden in terms of childcare is alleviated to make sure that they can go out and work, Citibank's Yoo said. Yoo was named the first female CEO of a bank in Korea.

"One of the most challenging areas for career women is childcare," she said. "Government investment and focus in expanding the social childcare system can help career women continue to carry on their career."

For younger women, the advice from female leaders was simple: Do the best you can.

"Whenever I become concerned about how I am doing, I think about who I am, and what I'm here to do," said Choi of Coca-Cola, who added that young Korean people already have excellent potential. Choi was the first-ever marketing director of Coca-Cola Korea and the first female CEO. When she first took the job, she felt the pressure of having to fill the shoes of her predecessor who had been managing "successfully for almost 13 years."

"They were huge shoes to fill, and I was conscious of how I would be compared to this person as we have a very different style of leadership," she said. "But I realized that I am a different person and a different leader, and that is why I was given the opportunity to lead the business. Being your authentic self is the biggest weapon and strength you have. Every leader has different values they bring to the organization.

"I've never considered the bars higher because I was a female executive, nor did I think it was harder for me as a woman," said Jeon of PersolKelly. "It's important that you think outside of the gender box and compete the same. You should not limit yourself even if you have the potential to grow."

Yoo of Citibank said, "You shouldn't be uncomfortable about being different from other people. You can succeed only if you have the courage to think about all the things you could try without fear."
Source: https://koreajoongangdaily.joins.com/2021/07/16/business/finance/Amcham-female-CEO/20210716125700402.html?detailWord=​