Dear AMCHAM Members,
Starting today, individuals vaccinated abroad who are visiting immediate family members in Korea will be eligible to apply for an exemption from the 14-day mandatory quarantine. This expands on the existing policy of exempting those vaccinated in Korea or those visiting for essential buseinss, humanitarian or academic purposes.
​The application for quarantine exemption must be made by email to the Korean overseas mission whose consular jurisdiction covers the area of the departure airport. Non-Koreans and individuals whose place of residence in in Korea are also eligible to apply. Please note that each application will be reviewed by the responsible overseas mission on a case-by-cae basis and there is no guarantee that an application will be accepted.
​Please refer to the details below and to the website of the ROK Embassy in the USA (LINK) for further information.
​Who is Eligible
1. A person visiting an immediate family member in Korea.
- Immediate family includes spouse, parents/grandparents, spouse's parents/grandparents, children/grandchildre. A person visiting a sibling is not eligible to apply.
​2. Vaccinated with the recommended number of doses of a WHO-approved Vaccine* at least two weeks before entering Korea.
- As of June 28: Pfizer, Janssen, Moderna, Astrazeneca-SK Bio, Covishield (AZ Serum Institute of India), Sinofarm and Sinovac.
​​3. The vaccination must be completed in the country of departure, not in a third country.
- For example, a person vaccinated in the U.S. cannot apply for the exemption if he/she is traveling to Korea from Singapore.
​​​4. The qurantine exemption will not apply to travelers from countries with active spread of variant strains, such as the South Africa and Brazil variants.
- As of June 28: South Africa, Malawi, Botswana, Mozambique, Tanzania, Eswatini, Zimbabwe, Bangladesh, Equatorial Guinea, Brazil, Suriname, Paraguay, Chile, Uruguay, Colombia, Argentina and Malta.
​​​​5. A person who meets the above conditions can apply regardless of their citizenship or place of residence.
​​​​​6. Accompanying children up to 6 years of age can be exempted from quarantine even if they are not vaccinated.
​How to Apply
1. You must apply to the Korean overseas mission whose consular jurisdiction covers the area of the departure airport.
​2. Application and issuance of quarantine exemption will be through email only. Please check the website of your embassy or consulate (as per the attachment) for the appropriate email address.
​​3. The application must be submitted during the appropriate time period as below. '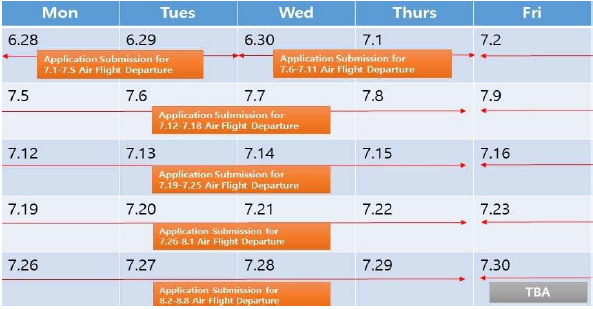 ​
AMCHAM has continously advocated for Korea to lift the quarantine requirement for vaccinated travelers regardless of where they were vaccinated. We applaud Korea for taking this positive step toward normalization and will continue to work with the Korean government to alleviate the qurantine on inbound travelers as quickly and safely as conditions allow.
​Thank you.