AMCHAM, KITA Co-host a Joint Trade & Customs Seminar with
Korea Customs Service (KCS) and U.S. Customs and Border Protection (CBP)
To Facilitate bilateral trade by deepening the understanding of Korea, U.S. Customs enforcement priorities,
and emerging supply chain compliance issues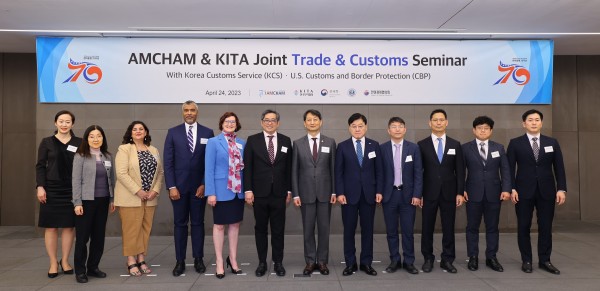 April 24, 2023 – The American Chamber of Commerce in Korea (AMCHAM, Chairman and CEO James Kim) co-hosted a joint seminar with KITA by inviting the Korea Customs Service (KCS) and U.S. Customs and Border Protection (CBP) at the Trade Tower today. Speakers and panelists from CBP and KCS gathered to discuss U.S. Customs and Korea Customs enforcement policies and hear the opinions of various companies, including AMCHAM member companies.
Minister for Trade Ahn Duk-geun of the Ministry of Trade, Industry and Energy delivered special remarks to commemorate the upcoming U.S.-ROK Presidential summit. "The Korea-U.S. alliance has evolved beyond military and security partnerships to include the economic alliance, and the KORUS FTA has created expansion opportunities for bilateral cooperation. Since the KORUS FTA went into effect, the trade volume between the two countries has nearly doubled, and investment has also increased two to three times." he said.
He added, "Companies from the two countries should work together to stabilize global supply chains while expanding opportunities for trade and investment cooperation and strengthening partnerships in future industrial sectors. As business-to-business exchanges between the two countries are crucial, we will spare no effort in attracting more investment from U.S. companies to Korea and encouraging more Korean companies to invest in the U.S."
While this event is being held in Korea, AMCHAM Chairman & CEO James Kim is promoting U.S.-Korea bilateral economic relations by accompanying President Yoon Suk Yeol on his State Visit this week. "Last year marked a surge in FDI for the U.S. and Korea, with record-breaking numbers and these developments highlight the importance of the upcoming summit as trade and investment have become critical elements of the alliance," he said. "The summit at this critical juncture provides an excellent opportunity for both countries to reinforce their shared values and goals through meaningful and productive dialogue, taking the U.S.-Korea economic partnership to the next level."
Henry An, Chairman of the AMCHAM Board of Governors and Senior Partner at Samil PricewaterhouseCoopers, highlighted the importance of learning about customs enforcement policies amid the strengthening U.S.-Korea trade relationship. "This year marks the 70th anniversary of the U.S.-Korea alliance and the economic partnership has become a key element of the two nations' bilateral ties. CBP and KCS play a critical role in ensuring that trade, especially between the U.S. and Korea, continues to be reliable and fair," he said. "It is crucial that we now familiarize ourselves with customs policies and emerging issues to globalize and strengthen the U.S.-Korea trade relationship and continue our momentum forward."
Jeong Man-ki, Executive Vice Chairman of Korea International Trade Association (KITA), said, "In the first quarter of this year, we recorded a trade surplus of USD $7.2 billion with the United States, making the U.S. the largest trading partner. With the continued trend of strengthening the Korea-U.S. alliance and the favorable performances of exports in battery and material this year, it is expected that exports to the U.S. will continue to growth for the time being." He added, "I hope that this seminar, meant to commemorate the 70th anniversary of the South Korea-U.S. alliance and to facilitate bilateral trade between the two countries, will serve as an opportunity to strengthen not only customs cooperation between the two countries but also industrial cooperation."
After a brief introduction by Katrina Chang, Senior Advisor at Kim & Chang and Co-chair of the AMCHAM Trade & Customs Committee, the seminar began with presentations by representatives from CBP.
AnnMarie Highsmith, Executive Assistant Commissioner at Customs and Border Protection (CBP), delivered an overview of CBP's enforcements for 2023 and beyond. She said, "The Asia-Pacific region is vitally important to U.S. trade. U.S. Customs and Border Protection is committed to robust collaboration with our industry, government, and civil society partners in Korea and throughout the region. The continued exchange of ideas and expertise will enable us to build a safer and more prosperous future – together."
Ian Saunders, Deputy Assistant Secretary for the Western Hemisphere at Department of Commerce & U.S. Candidate for Secretary General of the World Customs Organization, echoed the opinion that collaboration and exchange are key elements to continuing to develop trade relations. He said, "Robust public-private partnerships are crucial in today's fast-paced business environment to both secure and facilitate trade and are worthy of being promoted on the global stage. My vision for the World Customs Organization is to empower the organization with access to the views and expertise of the private sector. A well-postured WCO will enable day-to-day success in the management of international trade by global customs administrations."
Following presentations from CBP, representatives from KCS presented on trends in customs enforcement in 2023; the operational direction of customs investigations, including crackdowns on illegal e-commerce and intellectual property protection activities; the operational direction of post-clearance audit in 2023; and the basic procedures for foreign exchange transactions and precautions for capital transactions/exceptional transactions.
On behalf of the U.S. business community in Korea, AMCHAM Chairman & CEO James Kim will accompany President Yoon Suk Yeol on his State Visit this week to mark the 70th anniversary of the U.S.-Korea alliance. The visit will include a business roundtable with Korean and U.S. companies as well as a business forum attended by about 170 guests. 
###
주한미국상공회의소, 한국무역협회와 공동으로 한∙미 관세 정책 및 통관 이슈 사례 세미나 개최  
주요 한·미 통관·관세 정책 및 집행 우선순위, 최근 급부상하고 있는 공급망 컴플라이언스 이슈 등 
현안 및 최신 동향에 대한 심도 깊은 이해를 통해 양국간 무역 촉진 도모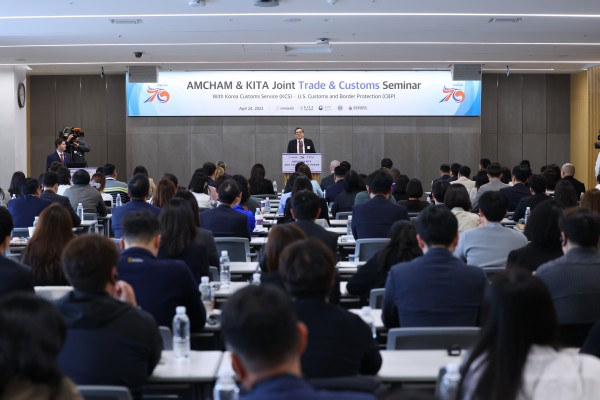 2023년 04월 24일 – 주한미국상공회의소(회장 겸 대표이사 제임스 김, 이하 '암참')가 오늘 오후 삼성동 트레이드타워에서 한국무역협회(회장 구자열)와 공동으로 한·미 관세 정책 및 통관 이슈 사례 세미나를 개최했다. 
연사로 참석한 한국 관세청(KCS)과 미국 관세국경보호청(CBP) 등 양국 관세 당국 전문가들은 세미나를 통해 주요 한·미 통관·관세 정책과 우선순위, 최신 동향 등에 대해 논의하고 암참 회원사를 포함한 기업들의 관련 의견을 청취하는 시간을 가졌다.  
산업통상자원부 안덕근 통상교섭본부장은 먼저 축사를 통해, "한미동맹은 군사·안보 동맹을 넘어 경제동맹으로 그 외연을 확장해왔고, 특히 한·미 FTA를 기점으로 양국 협력은 한 단계 도약했다. 한·미 FTA 발효 이후 양국간 교역 규모가 두 배 가까이 증가하고 투자 역시 2~3배 증가하였다." 고 말하며, "양국 기업들이 무역 투자 협력을 더욱 확대하고 미래 산업 분야 파트너십을 강화하면서 안정적 글로벌 공급망 구축을 위해 함께 노력해야 한다.  또한 이를 위하여 기업간 활발한 교류와 협력이 중요한 만큼 한국 정부도 투자 유치와 우리 기업의 대미 진출을 적극 지원하겠다." 라고 덧붙였다.  
이번 세미나가 한국에서 열리는 동안 제임스 김 암참 회장 겸 대표이사는 미국에서 이번 주 윤석열 대통령의 국빈 방문에 동행해 양국의 경제 관계를 증진시키기 위한 행보를 이어간다. 그는 "지난해 한·미 양국간 FDI는 급증세를 보이며 기록적인 수치를 기록하였는데, 이는 한미동맹에 있어 무역 및 투자가 지니는 상징성과 중요성을 반증하는 것." 이라며, "중요한 시기에 열리는 이번 정상회담을 지지하며, 의미 있고 생산적인 대화를 통해 양국 공동의 가치와 목표를 강화하고 한미 경제 동반자 관계를 한 단계 발전시킬 수 있는 좋은 기회로 이어지기를 고대한다."고 소감을 밝혔다.  
암참 이사회 의장인 헨리 안 삼일회계법인 부대표는 개회사를 통해 한·미 무역 관계 강화에 따라 더욱 중요해진 관세 집행 정책에 대한 이해의 필요성을 역설했다. 그는 또한, "올해는 한미동맹 70주년이 되는 역사적인 해로, 경제 협력은 양국 동반자 관계의 핵심 요소." 라고 말하며, "CBP와 한국 관세청은 무엇보다 한미〮 양국간 무역의 신뢰도 및 공정성 유지에 있어 핵심적인 역할을 하고 있다. 이러한 모멘텀을 유지하고 한·미 무역관계를 세계화하기 위해서는 관세 정책과 현안 등에 익숙해질 필요가 있다." 고 덧붙였다.   
한국무역협회 정만기 부회장은 환영사를 통해, "올 1분기까지 대미(對美) 무역흑자는 72억불을 기록하여 미국은 한국이 가장 큰 흑자를 낸 교역 대상국이 되었다." 고 말하며, "올 들어 한미동맹 강화 기조가 지속되고 배터리나 소재 수출 호조세가 이어지면서 당분간 대미(對美) 수출은 상승세를 보일 것으로 전망된다" 고 덧붙였다. 그는 또한, "한미동맹 70주년을 기념하여 양국간 통상협력 강화를 목적으로 개최된 이번 세미나가 한·미 관세 당국간 협력 증진은 물론 양국 간 산업 협력도 강화할 수 있는 계기가 될 수 있기를 희망한다" 고 밝혔다.  
이후 식순은 암참 무역 & 관세 위원회 공동의장인 카트리나 장 김·장 법률사무소 고문의 CBP 연사 소개에 이어 CBP 관계자들의 발표로 이어졌다.   
앤마리 하이스미스(AnnMarie Highsmith) 美 CBP 무역 담당 부국장은 먼저, CBP의 2023년 법집행 우선순위를 설명하며 "아시아 태평양 지역은 미국 무역에 매우 중요하며, CBP는 한국을 포함한 역내(域內) 전 지역의 산업계, 정부, 시민 사회 파트너들과 강력한 협력을 위해 노력하고 있다. 우리는 앞으로도 상호 전문성과 다양한 아이디어들을 지속적으로 교류함으로써 공동의 발전적 미래를 구축할 수 있도록 힘쓸 것." 이라고 덧붙였다.  
이안 손더스(Ian C. Saunders) 美 상무부 부차관보 겸 세계 관세 기구(World Customs Organization) 美 사무총장 후보는 협력과 교류가 무역 관계를 지속적으로 발전시키기 위한 핵심 요소라는 의견을 재차 강조했다. 그는 "강력한 민·관 파트너십은 오늘날 급변하는 경영 환경 속 무역 보호와 촉진에 있어 필수적이며, 이는 글로벌 무대에서 더욱 활성화되어야 한다." 라고 말하며, "글로벌 세관 행정 발전 및 정부 간 통관 협력 강화를 위한 세계 관세 기구의 역할이 중요한 만큼, 이를 위해 민간 분야와도 적극 협력하겠다." 고 비전을 밝혔다.  
오늘 세미나의 후반부에는 한국 관세청이 연단을 이어받아 2023년 관세행정 동향, 불법 전자상거래 단속 및 지재권 보호활동 등 관세법 조사 행정 운영 방향, 2023년 기업심사 운영방향 및 수입기업 유의사항 등 심사행정 운영방향, 외환거래 기본 절차 및 자본거래/예외적거래 유의사항 등에 대해 발표했다.  
한편, 제임스 김 암참 회장 겸 대표이사는 한미동맹 70주년을 기념한 윤석열 대통령의 이번 국빈 방문에 동행하여 주한 미국 재계를 대표하여 한·미 양국 정부 가교로서 힘을 보탠다. 이번 방문에는 한·미 주요 기업인들이 참여하는 비즈니스 라운드 테이블과 약 170여명이 참석하는 포럼 등이 개최될 예정이다.