AMCHAM Calls for Sustainable Tax Policies to Accelerate Korea's Transformation into Regional Headquarters in Asia
 - AMCHAM Holds a Special Roundtable with NTS Commissioner -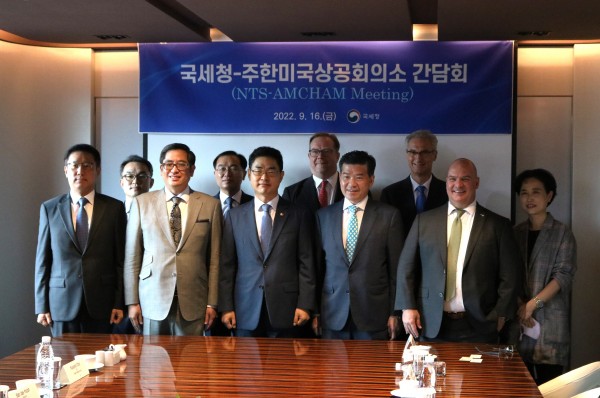 September 16, 2022
- The American Chamber of Commerce in Korea (AMCHAM; Chairman and CEO James Kim) held a special roundtable with National Tax Service (NTS) Commissioner Kim Chang-gi this morning at The Plaza Seoul Hotel.
Representatives of foreign invested companies in Korea participated in the roundtable to share challenges and suggestions on Korean tax policies and seek ways to improve the business environment. At the meeting, the delegation requested more favorable tax treatment, sustainable guidelines for foreign direct investments as well as more economic tax incentives for U.S. companies to invest in Korea.
The AMCHAM delegation included James Kim, Chairman & CEO of AMCHAM, Henry An, Senior Partner of Samil PwC and Chairman of AMCHAM Board of Governors, and representatives from Citibank Korea, GM Korea, EY Korea, Lockheed Martin, IBM Korea, and Baker Hughes Korea.
AMCHAM Chairman & CEO James Kim said, "Tax policies play an important role in promoting Korea as an investment destination. AMCHAM sent a letter to President Yoon earlier this year calling for tax reform as one of the key policy suggestions. We welcome the recent proposal of the Ministry of Economy and Finance to remove the five-year limit on the 19% flat tax rate for foreign residents." 
He added, "We appreciate the NTS's important leadership and contributions to the Korean economic growth, AMCHAM will continue playing the role as a bridge to further enhance the business relationships between the U.S. and Korea."
주한미국상공회의소, 대한민국을 명실상부 아시아 비즈니스 허브로 자리매김케 할 지속 가능하고 기업 친화적인 조세정책 요청  
2022년 9월 16일 – 주한미국상공회의소(암참; 회장 겸 대표이사 제임스 김)는 16일 오전 더 플라자 호텔 서울에서 김창기 국세청장과의 만남을 가졌다.     
이날 간담회에는 국내 외국인 투자기업 대표 및 관계자가 참석한 가운데, 조세 정책에 대해 이들 기업이 국내에서 겪는 애로사항 등을 공유하고 국내 경영환경 개선을 위한 의견을 교환하기 위해 마련되었다. 이 자리에 참석한 대표단은 보다 기업 친화적인 조세 정책 및 집행, 외투기업의 지속가능한 운영을 위한 정책 조성, 그리고 미국 기업의 한국 투자에 대한 세제 혜택 등을 요청했다.     
이번 간담회는 제임스 김 암참 회장 겸 대표이사, 헨리 안 암참 이사회 의장 겸 삼일회계법인 부대표, 한국시티은행, 한국지엠, 한영회계법인, 록히드마틴, 한국IBM, 베이커휴즈 등이 암참 대표단으로 참석했다.     
제임스 김 암참 회장 겸 대표이사는 "대한민국이 매력적인 글로벌 투자처로 공고히 자리잡기 위해서는 조세정책의 도움이 필수적이다. 암참은 올 초 윤정부에 조세개혁을 위한 제언을 서한으로 전달한 바 있으며, 최근 발표된 외국인 대상 19% 단일세율의 5년 제한 요건과 관련된 기재부의 세제 개편안에 대해 감사하게 생각한다."며, "대한민국 경제 발전에 기여한 국세청의 역할과 리더십에 경의를 표하며, 암참은 앞으로도 한·미 양국간 경제 협력을 위한 가교 역할을 더욱 충실히 해 나가겠다." 라고 소감을 밝혔다.