AMCHAM Promotes Opportunities in Korea in New Age of Digital Transformation
- AMCHAM Digital Innovation Forum 2022 -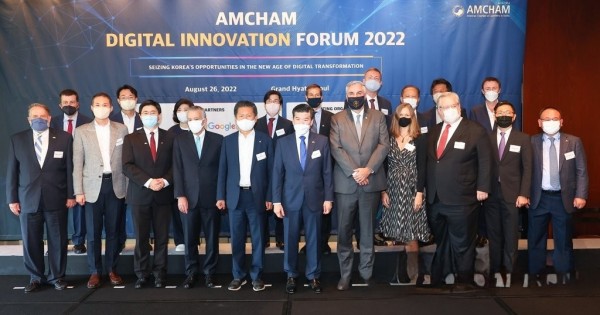 August 26, 2022 – The American Chamber of Commerce in Korea (AMCHAM; Chairman and CEO James Kim) hosted the AMCHAM Digital Innovation Forum 2022 at the Grand Hyatt Seoul Hotel this afternoon. The Digital Innovation Forum 2022, held for the first time this year, explored the theme "Seizing Korea's Opportunities in the New Age of Digital Transformation." Representatives from the Korean and U.S. governments, industries and academia joined the seminar to share their insights.
AMCHAM organized this forum to celebrate the R&D contributions of global technology companies and their promotion of digital transformation, which has emerged as a critical business strategy for sustainable economic growth. The Forum was designed to be a platform at which stakeholders can exchange ideas, build policy consensus, and explore cooperative strategies for partnerships among public and private sectors and academia. This event also aimed to provide a channel to convey concerns and challenges faced by foreign companies seeking to promote investment and digital growth in Korea, as well as opportunities to engage and network with industry stakeholders.
In his opening remarks, AMCHAM Chairman & CEO James Kim said, "Digitalization has quickly become a fundamental driver behind the continuous shift in the global economy. It is a critical business strategy for sustainable economic growth for all our businesses, big or small." He added, "AMCHAM strongly believes that Korea is well placed to emerge as a regional digital hub for Asia Pacific. In this context, it is critically important for Korea to create a sustainable regulatory environment where all digital service providers could thrive long-term."
H.E. Jung Chung-rae, Chair of Science, ICT, Broadcasting, and Communications Committee of the National Assembly, kicked off the forum with congratulatory remarks.
The Hon. Philip Goldberg, U.S. Ambassador to South Korea, remarked in his congratulatory remarks, "The United States and Korea are committed to an open, free, interoperable, and secure Internet. The digital economy is the single most important driver of innovation, growth, and job creation in our two nations – and indeed many others. It has transformed how we live, and how we do business."
"South Korea and Indiana have many common values, interests and goals," said Governor of the State of Indiana Eric J. Holcomb. "Our economic and educational ties continue to grow year after year with always a focus on today, tomorrow and the future of industry. Many more exciting opportunities lie ahead of us both to lengthen and strengthen our many bonds, building upon the cherished partnerships we already share."
Agne Makauskaite, Head of Regulated Industry and Public Policy, Asia Pacific and Japan, of Amazon Web Services, delivered the first presentation. She described the acceleration of the digital transformation using the public cloud.
Harrison Kim, Country Director of Google Korea, introduced the influence of Korean culture on the global market as well as Google's various efforts to support this influence. He explained that Google supports Korean companies and people by providing various global products and Android ecosystems. "Google will continue responsible innovation of products and services and strengthen partnerships with Korean companies so that diverse Korean content, K-culture and innovation efforts can come to fruition worldwide."
Dr. Michael Mandel, Vice President and Chief Economist at Progressive Policy Institute, presented the results from his new report titled, "Korean App Economy Update 2022." He estimated that the Korean App Economy includes 516,000 workers as of July 2022. The report found that Korea's App Economy is highly globally competitive compared to other countries such as Germany and the United Kingdom. To maintain this strong position, Dr. Mandel notes that regulators should not underestimate the importance of security and privacy considerations.
Sungho Cha, PS Commercial Manager of HP Korea, said, "The hybrid work environment has already become common in some companies. Given the growing demand for hybrid work among the MZ Generation, where the proportion of corporate members is increasing, it is the task of companies and governments to realize the best work environment where higher levels of collaboration are possible anytime, anywhere." He added, "Now that digital transformation, a survival condition for companies, is progressing faster than ever, enterprise PCs that can support this change are an essential element of innovation. HP continues to introduce a range of PC product lines that have strengths in security, performance, and mobility while meeting changing work environments through user-centric innovations."
The highlight of the seminar was a panel discussion led by Sun Hee Kim, Partner at Yulchon LLC and Co-Chair of the AMCHAM ICT Committee, on the various opportunities in Korea in the new age of digital transformation. Participating in the discussion were Young Hoon Kim, Head of Public Policy at AWS Korea, Dr. Michael Mandel of Progressive Policy Institute, Professor Hun-Yeong Kwon at the School of Cybersecurity at Korea University, Country Director Harrison Kim of Google Korea, PS Commercial Manager Sungho Cha of HP Korea, and Professor Byoung-cheol Oh of the Law School at Yonsei University. 
###
주한미국상공회의소, 포스트 코로나 시대, 지속 성장과 디지털 전환을 논하다
 - 2022 암참 디지털 혁신 포럼 개최 - 
2022년 8월 26일 – 주한미국상공회의소(암참; 회장 겸 대표이사 제임스 김)는 금일 오후 그랜드 하얏트 서울 호텔에서 '2022 암참 디지털 혁신 포럼'을 개최했다. 올해 첫 회를 맞는 이번 '디지털 혁신 포럼'은 한·미 정부, 산업계, 학계 및 다수의 글로벌 기업 관계자가 참석한 가운데 '디지털 전환의 새 시대, 대한민국의 미래성장과제'를 주제로 열렸다.  
본 포럼은 글로벌 IT기업의 연구개발 분야에의 기여와 디지털 전환 촉진이 지속가능한 경제 성장을 위한 핵심 비즈니스 전략으로 부상하게 되면서, 민관산학연간 협력 방안 모색 및 정책 공감대 형성을 위해 마련되었다. 암참은 오늘 포럼을 통해 대한민국 디지털 성장과 투자 증진을 고민하는 외투기업들이 직면한 우려와 과제를 전달하는 동시에, 업계 이해관계자들과 교류하며 의견을 나누는 만남의 장을 제공했다.    
제임스 김 암참 회장 겸 대표이사는 먼저 개회사를 통해 "디지털화는 세계 경제의 지속적인 변화를 이끄는 근본적인 동력이자, 기업의 규모와는 무관하게 모든 기업에 있어 지속 가능한 경제 성장을 위한 중요 비즈니스 전략." 이라고 말하며, "암참은 대한민국이 아·태 지역 內 디지털 허브로 부상할 수 있는 독보적인 위치에 있다고 굳게 믿는다. 이런 맥락에서, 모든 디지털 서비스 사업자들이 한국 시장에서 장기적 성장을 이루어 낼 수 있도록 지속 가능한 규제 환경을 만드는 것이 매우 중요하다고 본다." 라고 덧붙였다. 
한편, 이번 포럼 축사의 포문은 국회 과학기술정보방송통신위원회 정청래 위원장이 열어주었다. 이어 필립 골드버그 주한 미국대사는 축사를 통해 "미국과 한국은 개방적이고 자유로운, 동시에 상호 운용 가능하며 안전한 인터넷 환경 구축을 위해 힘쓰고 있다."며, "디지털 경제는 한·미 양국은 물론 실제로 많은 나라들에서 혁신, 성장, 일자리 창출의 가장 중요하고도 유일한 원동력이다. 이는 우리가 사는 방식과 비즈니스 수행 방식을 변화시키고 있다." 라고 덧붙였다.  
에릭 홀콤 美 인디애나 주지사는 또한 이어진 축사를 통해, "한국과 인디애나 주는 공통의 가치, 관심사, 목표를 가지고 있다" 라고 말하며, "우리의 경제적, 교육적 유대관계는 매년 성장하고 있으며 현재와 미래, 그리고 산업 비전에 초점을 맞추고 있다. 오늘날의 소중한 파트너십을 기반으로 양국 간 연대를 연장하고 강화할 수 있는 더 많은 흥미로운 기회가 우리 앞에 놓여있다." 고 덧붙였다.  
이어진 발표 세션은 첫번째 연사로 나선 아그네 마카우스카이테 AWS APJ 규제산업 정책 총괄의 '클라우드를 활용한 디지털 전환 전략'을 주제로 한 발표로 시작되었다. 김경훈 구글코리아 사장은 뒤이어, 한국 문화가 글로벌 시장에 미치는 영향력과 이를 지원하기 위한 구글의 노력을 소개하였다. 그는 "구글은 다양한 글로벌 제품과 안드로이드 생태계 제공을 통해 대한민국 기업과 국민들을 지원하고 있다"고 설명하면서, "한국에서 시작된 다양한 컨텐츠와 K-문화, 그리고 혁신을 향한 노력이 전 세계에서 결실을 맺을 수 있도록 구글은 앞으로도 변함없이 책임감 있는 태도로 제품과 서비스를 혁신하고, 한국 기업과의 파트너십을 더욱 굳건히 할 것" 이라고 밝혔다.   
이어진 발표 세션을 통해 진보 정책 연구소 (PPI, Progressive Policy Institute) 수석경제연구원인 마이클 멘델 박사는 최근 본인이 발간한 '한국 앱 경제 현황 2022' 라는 제목의 보고서를 인용하여, 2022년 7월 현재 한국은 앱 경제와 관련된 516,000개의 일자리를 보유하고 있으며 한국의 앱 경제가 독일이나 영국 등 다른 나라들에 비해 세계적으로 매우 경쟁력이 있다는 점을 피력했다. 또한 현 강세를 유지하기 위해서는 규제 당국이 보안과 개인정보보호 고려 사항의 중요성을 간과해서는 안 될 것이라 지적했다.  
마지막으로 차성호 HP 코리아 커머셜 매니저는 "하이브리드 근무 환경은 이미 일부 기업에서는 보편적인 근무환경이 됐다. 특히 구성원 비중이 높아지고 있는 MZ 세대의 하이브리드 근무에 대한 요구가 증가하는 가운데, 보다 높은 수준의 협업이 언제 어디서나 가능한 최상의 작업 환경을 구현하는 것이 기업과 정부의 숙제라 할 수 있다." 라고 말하며, "기업의 생존 조건인 디지털 전환이 그 어느 때보다 빠르게 진행되고 있는 지금, 이러한 변화를 뒷받침할 수 있는 기업용 PC는 혁신의 필수 요소이다. HP는 사용자 중심의 혁신을 통해 변화하는 업무 환경을 충족시키는 동시에 보안, 성능, 이동성 등에 강점을 지닌 다양한 PC 제품 라인업을 지속적으로 선보이고 있다." 고 덧붙이며 발표 세션을 마무리했다.  
이날 포럼의 하이라이트는 암참 ICT 위원회 의장을 맡고 있는 법무법인 율촌 김선희 변호사가 좌장으로 이끈 패널 토론으로, AWS 김영훈 정책협력실장과 구글코리아 김경훈 사장, PPI 마이클 멘델 수석경제연구원, HP코리아 차성호 커머셜 매니저, 고려대학교 정보보호대학원 권헌영 교수, 연세대학교 법학전문대학원 오병철 교수가 패널로 참여한 가운데 "디지털 경제 시대의 산업성장과 정책과제" 라는 주제로 건설적이고도 통찰력 있는 대화를 이어 나가며 행사를 마무리했다.