AMCHAM to Explore Solutions for Sustainable Growth in the ESG Era
 - AMCHAM Sustainability Seminar 2022 -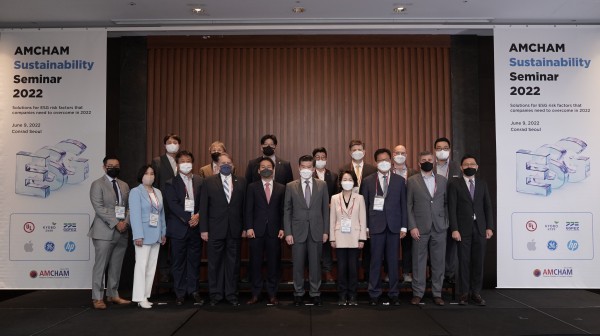 June 9, 2022 – The American Chamber of Commerce in Korea (AMCHAM; Chairman and CEO James Kim) hosted the Sustainability Seminar 2022 at the Conrad Hotel Seoul this morning.
AMCHAM organized this seminar to find more realistic countermeasures to realize risk factors and achieve sustainability for each part of E (environment), S (social), and G (governance) that companies may face. The Sustainability Seminar, which marks its fourth anniversary this year, explored the theme "Solutions for ESG Risk Factors that Companies Need to Overcome in 2022." Representatives from the Korean and U.S. governments, industries and academia joined the seminar to share their insight.
In his opening remarks, AMCHAM Chairman & CEO James Kim said, "Today, we are very fortunate to have an outstanding lineup of speakers from public and private sectors to guide us through the ESG solutions and strategies."
He added, "In the recent summit between President Yoon and President Biden, the two leaders emphasized the importance of creating global supply chains that are sustainable and addressing climate change as part of the global commitment to ensuring energy security." He continued, "As a result, there is now more focus and scrutiny with which companies are trying to improve practices in ESG aspects. This heightened level of awareness and expectation means we as business leaders now need to take a serious look at exploring concrete measures for implementing ESG strategies."
H.E. Ban Ki-moon, the 8th UN Secretary-General and President & Chair of the Global Green Growth Institute (GGGI), remarked, "The emergence of "ESG" as a key area of focus and the commitments of companies to net-zero is very encouraging. I hope the discussions that take place today and, in the future, will always consider ways to create a sustainable business environment, while achieving corporate development."
He continued, "As ESG initiatives are reflected in investment and management strategies, today's Sustainability Seminar is very timely. I believe today's discussions will help domestic foreign-invested companies make Korea a stronger country, and we can help the region and the globe move toward a more sustainable and prosperous future.
Kim Beob-jeong, Deputy Minister for Climate Change and Carbon Neutral Policy of the Ministry of Environment said, "We are advocating for various policies focused on E (environment), such as presenting the 'Guidelines for Korean Green Classification System,' and ESG consulting support SMEs, so that interest in carbon neutrality and ESG can lead to opportunities for industries to become competitive." He added, "We will continue to expand support so that companies that strive for eco-friendly management can receive more investment and be recognized for their performance."
VP & GM of Asset & Sustainability of UL Carlos Correia, who was the first presenter, delivered a presentation on the theme of "Under the theme of UL Standards and Certification Services for Sustainable Product Production." He said, "UL has been working on safety for more than a century. We have always focused on how to apply safety science so that companies can overcome challenges by providing solutions in a timely manner." He added, "These efforts to integrate sustainability and environmental, social and governance (ESG) efforts for the community will continue. Through this seminar, we will lead the development of meaningful sustainability with AMCHAM and support companies to achieve ESG goals."
In the following session, Kyobo Life Insurance EVP and Head of New Growth Engines and Government Relations Huh Kumjoo presented under the theme of "Achieving Sustainable Development Goals with ESGs," while Kim & Chang Foreign Attorney Lee Juneyong spoke about "ESG's Legal Implications & Businesses' Response Strategies."
The last presentation was given by Kim Dongwon, Government Engagement Director of GE Korea, under the theme of "GE's Sustainability initiative; 'Building a World that works for tomorrow.'" As a 130-year-old company operating in more than 170 countries, GE is putting sustainability in the core of the operation, and is firmly committed to tackling the world's biggest challenges with a clear alignment to sustainability across its businesses, Aviation, Energy, and Healthcare.
"In 2020, GE announced a new goal to achieve carbon neutrality within our own facilities and operations (Scope 1 and scope 2) by 2030 after surpassing our emissions reductions targets ahead of schedule. GE also announced a further ambition to be a net zero company by 2050—encompassing not just GE's operations, but also the Scope 3 emissions from the use of sold products," he said. "GE is committed to pioneer the technologies to address the world's needs for reliable, affordable, and sustainable power and safe, efficient flight. A culture of integrity is at the heart of everything GE does, and everyone at GE understands and adheres."
As a special session, Shin Nang-hyun, Commissioner of the Gyeonggi Free Economic Zone Authority, also made an announcement on the sustainable zone of the Gyeonggi Free Economic Zone.
The highlight of the seminar was a panel discussion led by Yulchon LLC Partner Yoon Yonghee, including Yoon Seong-young, Sustainability Manager of HP Korea, Lee Juneyong, Foreign Attorney at Kim & Chang, Khoi Do, Director of Market Development & Innovation at UL, and Kim Dongwon, Government Engagement Director of GE Korea, discussing sustainable management.