(한글은 아래 참조) ?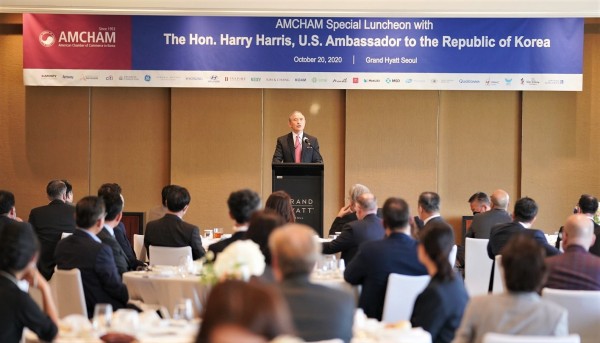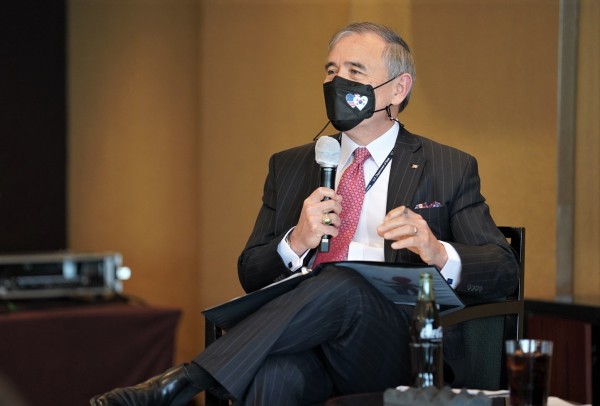 October 20, 2020 (Seoul) ? The American Chamber of Commerce in Korea (AMCHAM Korea) hosted Special Luncheon with Ambassador Harry Harris on October 20, 2020, at the Grand Hyatt Seoul. Around 50 distinguished guests, including officials from both the U.S. and Korean governments and CEOs of foreign companies, attended the event.
After being nominated by President Trump on May 23, 2018, Ambassador Harris has been serving as U.S. Ambassador to the Republic of Korea (ROK) for the last two years. Ambassador Harris delivered a speech about the future of the U.S. ? ROK alliance as well as ways two countries have been adapting to the "new normal" amid the current COVID-19 pandemic at the event.
"While our alliance is the linchpin of stability and security in East Asia, our relationship has grown to encompass many dimensions, including trade, people-to-people ties, and cooperation across a broad range of disciplines?all of which AMCHAM has played a critical part in supporting," remarked Ambassador Harris.
In a fireside chat with Jeffrey Jones, Chairman of the AMCHAM Board of Governors, Ambassador Harris discussed a variety of topics, such as his efforts to promote bilateral investment ties, changes he has seen in diplomacy since the onset of the COVID-19 pandemic, as well as ways for the two countries to collaborate to overcome the economic impact of the pandemic.
"Despite the many challenges we have faced in recent years, we have always been able to count on Ambassador Harris's strong leadership," said Chairman & CEO Kim. "I cannot remember a time when the relationship between AMCHAM and the U.S. Embassy was closer and more productive."
# # #
Founded in 1953, AMCHAM actively promotes investment and trade between the U.S. and Korea. It is the largest foreign chamber in Korea comprised of 800 member companies and affiliates with diverse interests and substantial participation in the Korean economy. In order to strengthen U.S. ? Korea bilateral economic partnership, AMCHAM meets with prominent figures from the public and private sectors, such as members of the Korean and the U.S. government and CEOs from leading global companies. 
###
주한미국상공회의소, 해리 해리스 주한미국대사 초청 오찬간담회 개최
?
2020년 10월 20일 ? 주한미국상공회의소(이하 "암참")는 10월 20일 오전 그랜드 하얏트 서울 호텔에서 해리 해리스 주한미국대사를 초청하여 특별오찬 간담회를 개최하였다.  이 날 행사에는 한미 정부 관계자, 국내외 기업 최고경영자(CEO) 등 50여 명의 귀빈들이 참석했다.
2020년 암참 특별간담회 시리즈의 일환으로 초청된 해리 해리스 주한미국대사는 이번 간담회를 통해 코로나19 상황 속 한미 양국이 "뉴 노멀(새로운 일상)"에 적응하기 위한 노력 및 한미 동맹 전망에 관한 견해를 밝혔다.
해리 해리스 주한미국대사는 "한미 동맹이 동아시아 정세의 안정과 안보의 핵심적인 역할을 함과 동시에 인적, 물적 교류를 포함한 다각적인 차원으로 발전했다"라며, "암참은 이러한 양국의 관계 발전에 있어 중추적인 역할을 했다"고 말했다.
해리 해리스 주한미국대사는 이후 이어진 제프리 존스 암참 이사회 회장과의 좌담에서 양국간 투자 증진을 위한 노력, 코로나19 발생 이후 벌어진 외교적 변화, 양국의 경제 침체 극복을 위한 협력 방안 등 다양한 주제에 대해 논의했다.
제임스 김 암참 회장은 "최근 몇 년간 수많은 어려움이 있었지만, 우리는 그럴 때마다 늘 해리스 대사님의 강력한 리더십에 의지할 수 있었다"며, "암참과 주한미국대사관의 관계는 그 어느때보다 돈독하다"고 말했다.
# # #
주한미국상공회의소는 1953년 한미 양국의 투자와 무역 증진을 목적으로 설립된 국내 최대 외국 경제단체이다. 한국 경제 각계에서 활발하게 활동하고 있는 800여 개의 회원사로 구성되어 있으며, 세미나, 워크샵, 네트워킹나잇 등 연간 약 80개의 행사를 진행한다. 암참은 양국간의 경제협력을 강화를 위해 한국 및 미국 정부 및 외국 기업 CEO 등 포함되는 공공 및 민간 부문의 인사와 만난다.