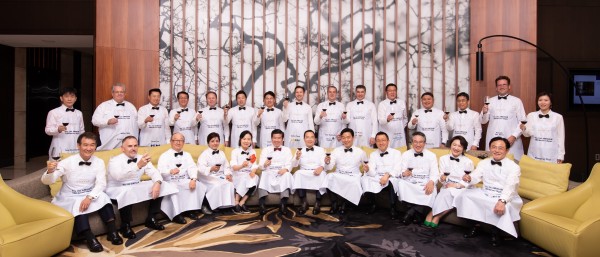 *참석 CEO
(앞줄 왼쪽부터)  
델 테크놀러지스 김경진 한국 총괄 사장/ 에이치피프린팅코리아 짐 노팅엄 대표이사/ 법무법인 광장 심재진 파트너/ 한국피앤지 발라카 니야지 대표/ 페덱스 코리아 채은미 대표이사/ 암참 제임스 김 회장 겸 대표이사/ 한국아이비엠 장화진 대표이사 사장/ 제이씨데코코리아 김주용 사장/ 모간스탠리증권 한승수 대표/ 아시안타이거즈 트랜스팩 송정섭 대표/ 켈리서비스(유) 전유미 대표/ 지앤엠글로벌문화재단 김영목 대표
(뒷줄 왼쪽부터)
한국화이자제약 오동욱 대표이사 사장/ 미래의동반자재단 제프리 존스 이사장/ (주)제이에스매니지먼트 이진수 대표이사/ 메릴린치 인터내셔날 엘엘씨 증권 서울지점 박승구 한국총괄대표/ 애트나 코리아 주식회사 데미안 델라니 대표/ 위워크 매튜 샴파인 제너럴 매니저/ 오비맥주 김종주 인사 부사장/ 써브웨이 콜린 클락 한국써브웨이 대표/ 존슨콘트롤즈인터내셔널 코리아(주) 브래드 벅월터 Johnson Controls Korea 사장/ 한국지엠주식회사 카허 카젬 사장 및 대표이사/ 하만인터내셔널코리아 제임스 박 사장/ (주) 코스트코 코리아 조민수 대표이사/ 씨비알이코리아 임동수 대표이사/ 지이헬스케어코리아 주식회사 프란시스 반 패리스 대표이사 사장/ 수원시청년지원센터 최윤정 센터장/ 피아트 크라이슬러 오토모빌스 코리아 파블로 로쏘 사장 (사진누락)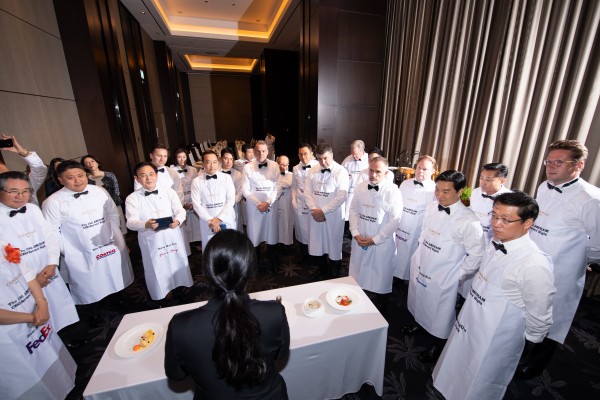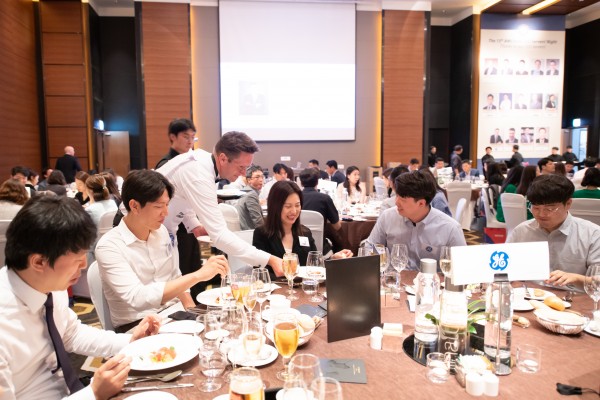 (한글은 아래 참조)
June 13, 2019 - The American Chamber of Commerce in Korea (AMCHAM) hosted the 15th AMCHAM CEO Servers' Night at the Conrad Seoul on Tuesday, June 11, 2019.
28 CEOs and representatives of AMCHAM member companies gathered to receive dinner service training by hotel staff and spent the evening serving food and drinks to their coworkers, business partners and friends. Hosted annually since 2003 by AMCHAM's charitable arm, Partners for the Future Foundation (PFF), AMCHAM CEO Servers' Night raises scholarship funds for university students from families experiencing financial difficulties. This year's event marked as the biggest CEO Servers' Night in AMCHAM history in terms of participants and proceeds.
AMCHAM's Chairman & CEO James Kim stated "Tonight's event broke all records and I am proud to say that we have helped to establish a unique and powerful fundraising custom in Korea. It is important to us to continuously actively engage in various corporate social responsibility (CSR) activities."
All proceeds from the event, around USD 65,000, will be donated to the Partners for the Future Foundation to provide scholarships to university students in need.
###
About Partners for the Future Foundation (PFF)

The Partners for the Future Foundation is a non-profit organization, established in February 2000 as a charity arm of AMCHAM Korea. The organization has been offering aid to unemployed families through programs such as scholarships, job training, and internships. The Foundation also offers various CSR programs partnering with corporates. In particular, the PFF's scholarship program has provided tuition for about 3,300 university students from unemployed families since the year 2000 and is making an effort to attract more individual and business sponsors. The PFF is promoting various everyday methods of participating in charity while using "Fun Fundraising" as its motto, hoping to aid in establishing a giving culture in the Korean society. 
###
역대 최다 기업 CEO 참가, 암참 자선행사에서 웨이터로 변신
-제 15회 '암참 CEO 서버스 나이트' 성료
-암참 역대 최대 수익 전액 장학금으로 기부
2019년 6월 13일 - 주한미국상공회의소(이하 "암참")는 지난 6월 11일 화요일 오후 콘래드 서울에서 제 15회 '암참 CEO 서버스 나이트' 자선행사를 개최했다.

암참 회원사 CEO 및 대표들 28명은 암참의 연례 자선행사를 위해 호텔 직원들에게 기본적인 서빙 교육을 받은 후, 일일 웨이터로 변신하여 초청한 자사 임직원과 손님들에게 저녁 식사와 음료를 서빙했다. 암참 산하 자선단체 미래의동반자재단은 2003년부터 매년 이 특별한 행사를 개최하여 전 수익금을 경제적 어려움을 겪고 있는 대학생들을 위한 장학금으로 조성해왔다. 올해 암참 CEO 서버스 나이트에는 총 28명의 CEO가 참석하여 암참 역사상 최대 참가자 및 수익금의 자선 행사로 기록되었다.
제임스 김 암참 회장 겸 대표이사는 "올해 행사는 역대 암참의 모든 기록을 갱신하는 뜻 깊은 행사였다. 한국에 독특한 모금 활동 문화를 정착시킬 수 있어 자랑스럽게 생각하며, 암참은 앞으로도 다양한 사회공헌 활동을 펼칠 예정"이라고 전했다.
올해 행사를 통해 모은 약 7100만원의 수익금 (CEO 참가비 및 식사비)은 미래의동반자재단에 기부되어 경제적으로 어려움을 겪고 있는 대학생에게 장학금으로 지원될 예정이다. 
###
암참 미래의동반자재단
미래의동반자재단은 국내 실업가정을 지원하고자 2000년 2월 설립된 주한미국상공회의소 산하 비영리 자선재단으로, 지금까지 실업가정을 대상으로 하는 장학금 제도, 직업교육훈련 지원프로그램, 그리고 인턴십 프로그램등 다양한 실업구제 프로그램을 실시하고 있다. 특히 장학 사업의 경우 2000년부터 시작하여 지금까지 3,300여명의 실업가정 대학생들의 학비를 지원하였으며 기업과 개인 차원의 후원인 모집에 힘쓰고 있다. 미래의동반자재단은 '즐거운 기부' 라는 모토로 일상에서 쉽게 접할 수 있는 다양한 방법을 통해 자선을 유도함으로써 보다 쉽게 기부문화가 한국사회에 정착하는데 기여하고자 한다.