Posco Holdings' Q2 profit beats expectations on steelmaking recovery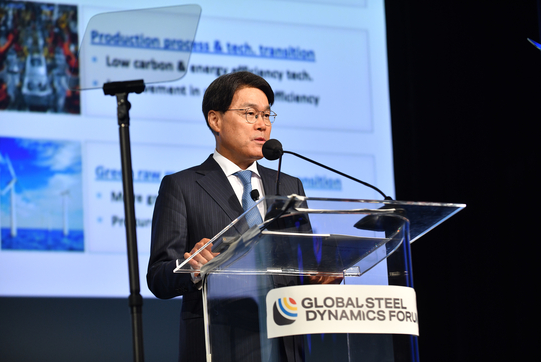 BY SARAH CHEA, Korea JoongAng Daily - Posco Holdings reported a consensus-beating 1.3 trillion won ($1 billion) in consolidated operating profit in the second quarter as the steelmaking business slowly recovers after the shutdown of Posco's Pohang steel mill last year.
The quarterly operating profit came in at 1.33 trillion won, down 38.1 percent on year, beating market expectations of 1.2 trillion won compiled by market tracker FnGuide.
On quarter, the operating profit is up by 86 percent as it resumed full operations at its Pohang factory on Jan. 20, exactly 135 days after it was shut down on Sept. 7 due to flooding caused by Typhoon Hinnamnor.
Revenues fell 12.6 percent on year to 20.1 trillion won during the same period, in line with analyst expectations of 20.7 trillion won.
Net profit was also in line with the consensus of 800 billion won, down 55.6 percent on year.
The consolidated earnings include those of its subsidiaries, which include steelmaker Posco, Posco Future M and Posco International.
"The typhoon-hit steelmaker Posco recovered the 1 trillion won level as sales normalized starting in the second quarter," Jeong Ki-seop, chief strategy officer at Posco Holdings, said during a conference call Monday morning. "The recovery of our key business is very significant."
Posco generated 841 billion won in operating profit during the April-to-June period, down 36.4 percent on year. On quarter, it is up by 235 percent.
Non-steelmaking subsidiaries also reported strong results in the second quarter.
Posco Future M generated 52.1 billion won in operating profit, down 5.6 percent on year due to increased expenses on the newly opened cathode factory in Gwangyang, South Jeolla.
Sales recorded an all-time high of 1.2 trillion won, up 48.5 percent on year.
Operating profit of battery material businesses skyrocketed 124.6 percent on year to 37.5 billion won during the same period. Sales of cathodes grew 10.4 percent to 786.3 billion won. Cathodes are the major materials in making EV batteries that make up 40 percent of the total battery cost.
Posco Future M won orders of 106 trillion won so far from various major battery makers including Samsung SDI, LG Energy Solution and Ultium Cells.
"Posco Holdings will pour 46 percent of our total investments into the secondary battery business over the next three years," said Jeong. "Profitability will kick into high gear starting in 2026."
Posco Future M aims to increase its cathode production capacity to 1 million tons and anode to 360,000 tons by 2030.
Posco International, a trading company, generated an all-time high of 357.2 billion won in operating profit, up 28 percent on year. Posco International merged with Posco Energy on Jan. 1.
Posco Holdings shares surged 16.5 percent to close at 642,000 won Monday, becoming Korea's fourth largest company in terms of market capitalization after Samsung Electronics, LG Energy Solution and SK hynix.
Source:https://koreajoongangdaily.joins.com/2023/07/24/business/industry/korea-posco-posco-holdings/20230724112044668.html