Hyundai's 'walking vehicle' obtains U.S. patents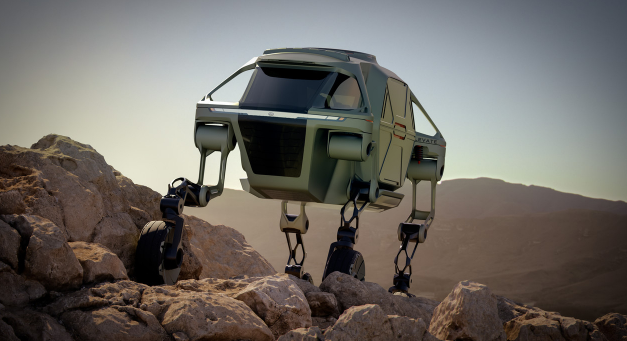 By Kan Hyeong-woo, The Korea Herald - Hyundai Motor Group has obtained patents for walking vehicles in the US, taking the next step in making the South Korean auto giant's futuristic four-legged cars a reality.
According to the US Patent and Trademark Office on Tuesday, two patent applications for walking vehicles were published under the names of both Hyundai and Kia on July 6, about 19 months after the two companies filed for the patents on Dec. 31, 2021.
The patents protect the technologies of Hyundai's concept car, Elevate, an electric vehicle that can transition between driving on flat surfaces with wheels and walking over the most treacherous terrains with robotic legs.
The automaker showcased a small prototype of Elevate for the first time at the Consumer Electronics Show in 2019. With its ability to mimic both mammalian and reptilian gaits, Hyundai Motor touted Elevate's capacity to play a multi-purpose role in exploration, construction and disaster relief where fully accessible roads are not available.
"Companies try to establish maximum protection for their future products before commercialization. ... Patents serve as an indicator that shows the direction in which a firm is headed," said Kim Pil-su, an automotive engineering professor at Daelim University.
"Through the patent registration, (Hyundai Motor Group) intends to become a pioneer in the market for specialized robot mobility that can navigate through unusual terrains."
Lee Tae-hoon, a patent attorney, also placed importance on the latest patent registration, saying "If a company has a patent in several countries, it is likely that the company sees the technology as important and could be thinking about commercializing it."
The Elevate concept was co-developed by Hyundai Cradle, the automaker's open innovation center, and Sundberg-Ferar, a US design company. Hyundai later launched New Horizons Studio, a unit focused on the development of Ultimate Mobility vehicles, in September 2020.
"When a tsunami or earthquake hits, current rescue vehicles can only deliver first responders to the edge of the debris field. They have to go the rest of the way by foot. Elevate can drive to the scene and climb right over flood debris or crumbled concrete," said John Suh, then head of Hyundai Cradle, at the 2019 unveiling event.
According to Hyundai, Elevate is capable of climbing a 1.5-meter wall, stepping over a 1.5-meter gap and navigating through different terrains at an average speed of 5 kilometers per hour while maintaining its main body and passenger level. The company said the vehicle could drive at high speeds just like any other car on the road when the robotic legs are folded away and the wheels begin rolling.
Hyundai Motor has continued to further advance its vision of the ultimate mobility vehicle. In February 2021, New Horizons Studio also unveiled the concept model of Transforming Intelligent Ground Excursion Robot, dubbed TIGER, a multi-purpose vehicle that has wheels on robotic legs in a similar fashion to Elevate. The biggest difference between Elevate and TIGER is that the former can carry passengers and the latter is an unmanned machine.
Professor Kim noted that Hyundai already has the world's best walking robot technology with the 2020 acquisition of Boston Dynamics, pinning high hopes on future collaboration between the two firms.
"Boston Dynamics has great technology but they couldn't fully commercialize it. That's why Hyundai Motor Group stepped in," he said. Boston Dynamics is well-known for its signature four-legged robot dog, Spot.
In January this year, Hyundai Motor Group Executive Chair Chung Euisun highlighted the importance of future mobility and robotics during a New Year's speech to employees.
"We (plan to) present (purpose-built vehicles) that fit the transportation goals of both people and objects to the market in earnest," said Chung.
Source: http://www.koreaherald.com/view.php?ud=20230711000637