Posco raises 2030 second battery material sales target by 50%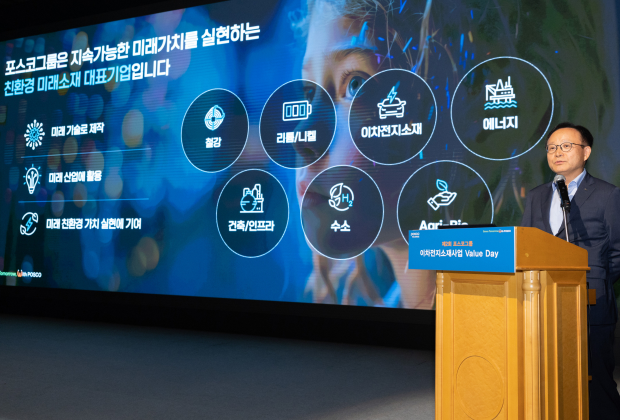 By Yu Ji-soo, The Korea Herald - Posco Holdings has set a goal of achieving 62 trillion won ($48 billion) in sales of secondary battery materials by 2030 by expanding its raw material production capacity, it said Tuesday.
During its Posco Group Secondary Battery Materials Business Value Day, the firm announced the new goal, which is a 51 percent increase compared to the announced target last year of 41 trillion won.
The raw materials it plans to expand production include lithium and nickel as well as next-generation, cathode and anode materials.
Several executives attended the event held at Posco Center in Gangnam, southern Seoul, including Chief Strategy Officer Jeong Ki-seop and head of Posco Holdings' green future materials team Yoo Byung-ok. Among the other 200 participants were domestic and foreign institutional investors, securities analysts and more.
"Posco Group's secondary battery materials business is a sustainable business model with not only economic but also environmental and social value," said Jeong.
The group outlined specific plans for each of its businesses, including lithium, nickel and battery material recycling.
In particular, to become a leading global lithium company Posco intends to expand its lithium resources based on existing investments in lithium mines.
Meanwhile, it plans to secure a stable supply value chain and maintain a flexible response to global trade barriers for its nickel business as well as develop an eco-friendly recycling ecosystem by establishing hubs in global markets such as Europe and the US to reprocess raw materials from used batteries.
The group will also diversify its qualitative and quantitative growth and expand its portfolio to reflect customers' needs, especially by concentrating production domestically and fostering partnerships with customers. This will help enhance its investment competitiveness and increase production capacity, Posco said.
"In the early stages, we will concentrate 46 percent of the group's total investment budget on the secondary battery materials business over the next three years and generate substantial profits after 2026," explained Jeong.
Meanwhile, the group is planning to hold a second Value Day event from Wednesday to Friday, hosting overseas investors from around the world, including Hong Kong and Singapore.
Source: http://www.koreaherald.com/view.php?ud=20230711000630&np=1&mp=1 ​