POSCO Holdings completes construction of secondary battery recycling plant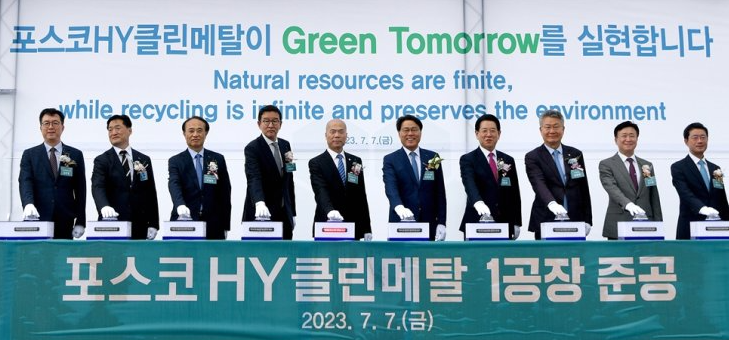 By Kim Hyun-bin, The Korea Times - POSCO Holdings completed the construction of its secondary battery recycling plant POSCO HY Clean Metal. The plant was made in collaboration with China Huayu Cobalt and GS Energy, according to the company, Sunday.
POSCO HY Clean Metal, which saw its construction completed on Friday, is capable of processing 12,000 tons of so-called black powder annually and recovering 2,500 tons of nickel, 800 tons of cobalt and 2,500 tons of lithium carbonate.
Black powder refers to powder containing valuable metals such as lithium, nickel, cobalt, and manganese, which are raw materials for secondary battery materials, obtained by crushing and selectively collecting waste batteries.
POSCO Holdings established the Poland Legnica Sourcing Center (PLSC) in Poland in August last year to crush secondary battery scrap and waste batteries to produce black powder. This black powder is supplied to the POSCO HY Clean Metal recycling plant in Yulchon Industrial Complex, South Jeolla Province, where the extraction of raw materials for secondary battery materials takes place.
HY Clean Metal possesses process technologies that maximize the recovery rate of raw materials for secondary battery materials. The company also plans to convert by-products such as copper and sodium sulfate, which is generated during the process into products, thereby minimizing waste generation.
The products produced by HY Clean Metal will be supplied to the POSCO Future M cathode material plant, located within the Yulchon Industrial Complex, enhancing the raw material sourcing competitiveness of POSCO Group's secondary battery materials business.
Through the completion of this secondary battery recycling plant, POSCO Holdings expects to establish an environmentally friendly resource circulation system that recovers raw metals from process scrap and waste batteries in the battery industry and utilizes them for the production of secondary battery materials, thereby minimizing carbon dioxide emissions and reducing costs.
"Through continuous investments in cathode materials, anode materials, lithium and recycling, we will develop POSCO Group into a global leader in the secondary battery materials industry," POSCO Group Chairman Choi Jeong-woo said.
Source: https://www.koreatimes.co.kr/www/tech/2023/07/129_354585.html