Marking 35th birthday, McDonald's Korea unveils new menu, outlet expansion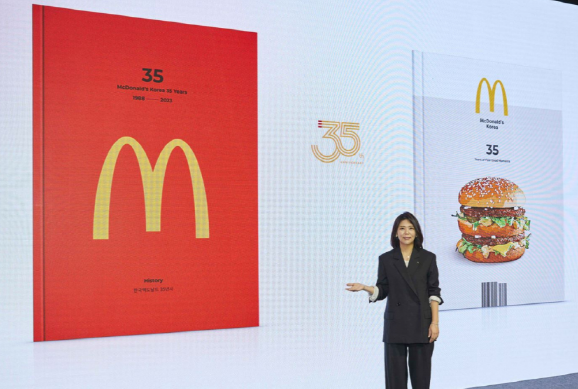 By Lee Yoon-seo, The Korea Herald - McDonald's Korea on Wednesday unveiled its vision to operate a total of 500 McDonald's outlets in the country by 2030 and release an exclusive menu in the Korean market, in celebration of its 35th anniversary.
"During the first half of this year, the (firm's) sales rose about 10 percent on-year to some 623 billion won ($479 million), logging its largest (semi-annual) sales since the brand's entry into Korea," McDonald's Korea CEO Kim Ki-won said during a press conference held in Seoul.
Back in 1988, McDonald's Korea had 3,000 daily visitors for all domestic outlets and posted 1.7 billion won in annual sales. Now it has grown into a fast-food chain with 400,000 daily visitors and annual sales of 1 trillion won, Kim said.
"We attribute our stellar growth (in the Korean market) to long-term investments such as actively opening new outlets, strengthening menus, such as by introducing the McCrispy burger, and launching various platforms that benefit customers," she added.
After 35 years of its operations, Kim said the company will be aiming to expand the number of its Korean branches to 500 by 2030, up 25 percent from from current some 400. It will open eight large-scale new drive-thru restaurants across the country by the end of this year.
The new drive-thru stores, dubbed McDrive, are planned to be equipped with an expanded version of McDonald's Hi-Pass payment system, which allows a consumer to pay for ordered goods using a transceiver placed in the car without having to exit the vehicle.
Marking its 35th birthday, Lee Hae-yeon, the chief marketing officer of McDonald's Korea, added that McDonald's Korea will be releasing a Korea-exclusive menu as a part of its Taste of Korea campaign. The campaign aims to contribute to the local economy by developing burger recipes that use locally sourced ingredients.
For the production of the new menu item, the Jindo Green Onion Cream Croquette Burger, McDonald's Korea said it will be purchasing 50 tons of green onions from Jindo, South Jeolla Province, to support economically local farmers.
"We will continue to conduct businesses with environmental, social and governance initiatives to aim for sustainable growth from a long-term perspective, in order to become a trustworthy, friend-like brand," Kim said.
To further promote its ESG efforts, Kim said McDonald's Korea is set on converting all its packaging materials into recyclable and reusable materials by 2025. She added the company will be upping efforts to convert use of all eggs to pasture-raised eggs, in a bid to promote animal welfare.
Regarding the heated competition for global brands' foray into the Korean market amid its burgeoning demand for burgers, Kim said McDonald's Korea "welcomes the global burger brands' inroads into the domestic market," remarking that the recent boom in global burger brands advancing into the Korean market reflects the increased demand for burgers.
On June 26, popular US burger brand Five Guys started its first Korean operations in Gangnam, southern Seoul. British celebrity chef Gordon Ramsay recently opened his second burger restaurant in South Korea in the southern city of Busan.
"We will aim to launch products that best convey consumers' needs (amid the competition)," Kim said.
According to Euromonitor, the size of the domestic hamburger market, which was valued at 1.9 trillion won in 2013, grew rapidly to about 4 trillion won last year. According to the research firm, Korea's burger market is expected to grow to some 5 trillion won this year.
Source: https://www.koreaherald.com/view.php?ud=20230705000606